DISCOVERING POTENTIAL
See the skills beyond the resume
Today's talent market is more competitive than ever. Tight recruitment deadlines have organizations fighting tooth and nail for the top candidates.
This shift is directly tied to increasingly high turnover and applicant shortages that have dried up the talent pool.
Even though it's a tough time to be a recruiter, we view this challenge as an opportunity to change the way we review applicants.
It's time to dig deeper and understand what candidates are capable of. Criteria assessments allow you to hire for potential – something traditional recruitment processes overlook. By focusing on potential, recruiters have a large talent pool, more choices, and are ultimately able to make better hires.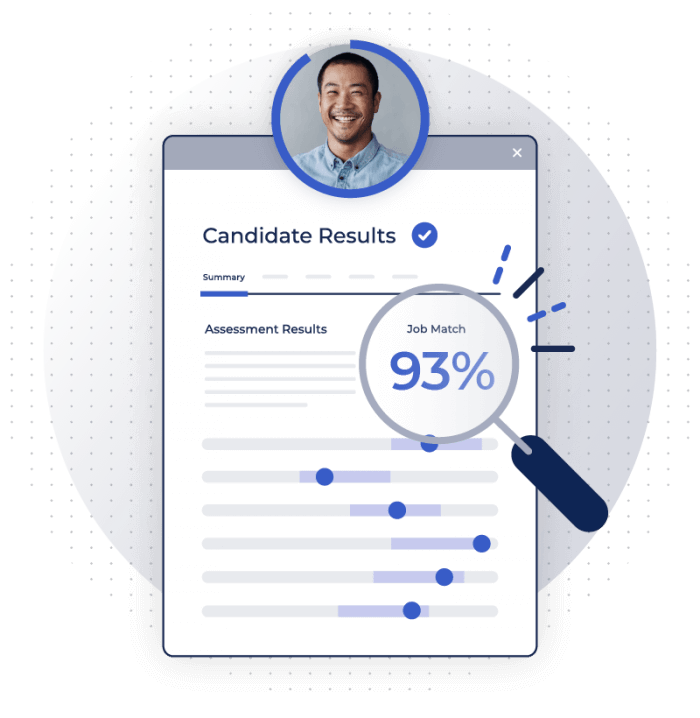 What does potential look like?
The traditional recruitment process leans heavily on information from resumes, interviews, and calling up a list of references.
But are these "old reliables" actually reliable? While they'll give you some insight on a candidate's experience and educational background, they don't let you see the whole picture.
If you want to see what a candidate truly has to offer, it takes a little more digging. But the juice is worth the squeeze: you'll gain a lot of insight into their future performance, not just what they've done in the past. This digging helps you uncover a candidate's full potential.
Potential is comprised of things candidates can't easily prove on paper – things like their critical thinking, integrity, receptivity to feedback, and how they engage with others. At the end of the day, these attributes are far more telling of how well an applicant will perform on the job than their GPA.
But if it can't be captured on paper, how can you assess potential during recruitment? Criteria's already got that covered.
Assessments for every kind of potential
Criteria's toolkit is brimming with assessment tools that can measure the most valuable data, designed specifically for your industry and the position you're hiring for.
Aptitude
Our aptitude tests measure critical thinking, problem solving, attention to detail, learning capacity, mechanical reasoning, focus, and mental agility. Criteria aptitude tests can help you understand a candidate's capacity – whether you're filling entry level or senior roles.
A software company client wanted to create a baseline for their upcoming recruitment efforts. They had their sales department take the General Aptitude Mobile Evaluation (GAME) assessment, along with a personality assessment. They found that the sales employees who both passed the GAME assessment and whose personality aligned closely with the sales profile generated 4 times the revenue of employees who failed one or both of the assessments. See how it improved their recruitment efforts in the full case study.
Personality
If you want to better understand a candidate's workplace behavior and style, personality tests are where it's at. This type of assessment is both predictive of comfort in the role and helps you prepare to meet your candidates' needs when it comes to managerial style and team dynamics.
The Employee Personality Profile (EPP) measures 12 personality traits that are directly related to job success. The candidate's responses are then compared to role-specific benchmarks to see if their personality is compatible with the position.
Criteria helped increase a tutoring center's hiring success rate from 63% to 98% by using the EPP to measure candidate compatibility with the manager profile. They found that managers with a strong match to this specific profile were 30% more productive than those who didn't align. Learn more in the full case study here.
Emotional intelligence
Emotify, Criteria's emotional intelligence test, assesses a candidate's ability to identify, perceive, and manage emotions in a work environment. This information helps hiring managers and recruiters better understand a candidate's resilience and ability to successfully navigate working relationships.
We conducted a study in collaboration with JVR Psychometrics that compared employees' Emotify scores to their job performance. Our study found that 'average' and 'above average' scorers were 20% more likely to react appropriately in crises, 18% more likely to maintain their composure under pressure, and 26% less likely to be unwilling to learn new skills. To discover more of the insights we found, check out the full case study here.
Growth and leadership capacity
Candidates who apply for a specific advertised role are also applying to be part of your organization's future. So evaluating a candidate's willingness to grow can make all the difference in your company's next generation of leaders.
The role you hire someone for isn't necessarily the only role they'll have during their tenure. Criteria's suite of assessments can capture a candidate's leadership potential. For example, a federal regulatory authority used Criteria's award-winning Cognify assessment and found that high-scoring employees were 5 times more likely to receive a promotion. Review the full case study here.
The Workplace Alignment Assessment (WAA) is designed to measure a candidate's compatibility with your organizational values. A strong match is a great predictor of how long a candidate's tenure is likely to be and positively correlated to commitment to your company.
Skills
We recognize that sometimes you need to prove that a candidate possesses the critical skills needed to succeed in the role. That's why we developed a variety of skill-focused assessments that can reliably determine candidate compatibility tied to both role-specific and transferrable skills.
Our client Unyson added the Criteria Basic Skills Test (CBST) and was able to increase their hiring success rate to 82%. They found that candidates with high CBST scores had a 93% rate of high performance after they were hired.
A manufacturing company used the Wiesen Test of Mechanical Aptitude (WTMA) to measure industry-specific skills without adding adverse impact. They found that hires with high WTMA scores had nearly 4 times longer tenure than those who did not pass. Strong WTMA performance was directly tied to longevity in the role, with high scorers 108% less likely to be terminated for any reason, and 38% less likely to receive disciplinary action. You can read the full case study here.
The factors that make a person a good candidate aren't just based on their professional background or where they're from. A candidate's underlying potential is a much stronger indicator of their on-the-job success. The most successful candidates are those with transferrable skills, the capacity for growth, and compatibility with the specific role and your organization.
Your candidates can tell you they've got those qualities, listing them on their resume or talking them up in their interview. But our evidence-based, tried-and-true assessments help you see your candidates' true potential so you can achieve hiring success.
Contact Us
Let's discuss which assessments will best reflect your candidates' potential.