About Video Interviewing
What is Asynchronous Video Interviewing?
An asynchronous interview (also known as "one-way interviews" or "on-demand interviewing") consists of you answering a series of pre-recorded questions in your own time and in your own space. Unlike a traditional phone or video interview, asynchronous interviewing lacks the conventional conversation that you may be used to. Instead, you and every other candidate are given the same opportunity to answer identical questions, leveling the playing field for you to prove yourself to the hiring manager.
Asynchronous interviewing is a great opportunity for you to separate yourself from the other candidates applying to a new job. It's a chance for you to put your best foot forward and show what makes you right for the role. Plus, it's super convenient! You get to determine the best time and place to conduct the interview, making it easier for you to interview on your terms, time, and location.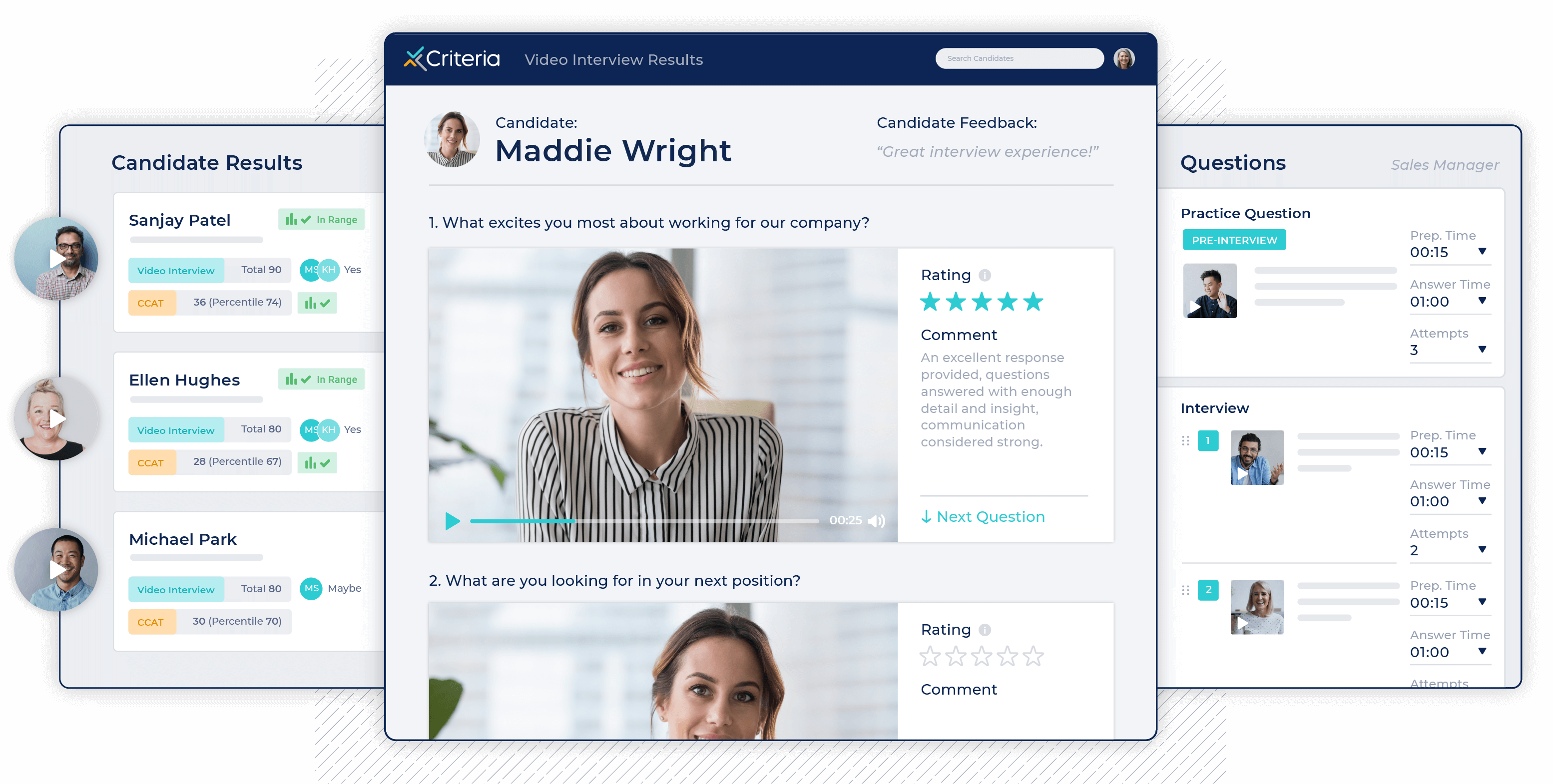 Here's what you need for your asynchronous interview: 
A Device with a Webcam 
Stable Internet Connection 
Google Chrome or Safari Browser 
Before your interview, make sure to find a background that is plain (a door or wall works best) in a well-lit and quiet environment. You don't want any distractions while you're doing your interview!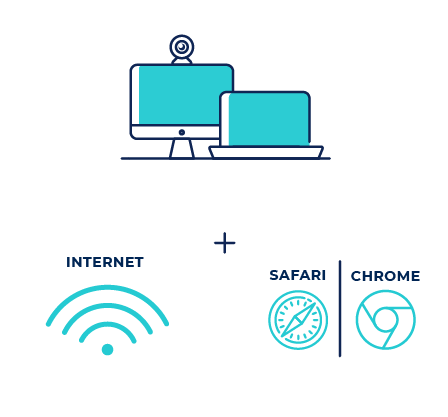 Understanding the Video Interview
It's good to know what you're getting into. Let's look at what you can expect from Criteria's one-way interview process.
Video Interviewing FAQs
Does an on-demand video interview replace a face-to-face interview?
Criteria's video interview process is primarily used for first round interviewing and screening. By using Criteria, you have the opportunity to make a more personal impression on the entire interviewing panel at an early stage. This may speed up the process for you to get to the next stage.
How secure is a video interview and who can review it?
The Criteria application is designed with strict privacy compliance and security measures to protect both candidates and the company. A candidate's video interview can only be reviewed by the selected hiring team of the organisation that the job relates to. Your privacy is very important to us and if you would like to find out more, please read our privacy policy.
Do I have to download software to take the video interview?
No, Criteria's video interviewing platform is a secure, browser-based application that does not require any software to be downloaded.
Can Criteria video interviews work with any web browser?
Yes, Criteria's video interviewing platform has been designed to work with all web browsers and operating systems as long as your browser supports WebRTC (this is standard for most devices, but it does mean that on an iOS device, you're limited to Safari, due to technical restrictions enforced by Apple). The browsers include: Chrome, Firefox, Edge and Safari.
What will I need to start my video interview?
Technical Requirements
Stable Internet connection

Avoid public networks such as Universities or Libraries as well as Government Departments and other workplace networks, as firewall restrictions are often in place
You can take the interview using one of the following:
A computer running Google Chrome browser with microphone and webcam

Apple iPhone or iPad, running IOS 12 or higher, using Safari browser

Android phone or tablet using Google Chrome browser
What should I wear for my video job interview?
You should dress as you would for a face-to-face interview. If you are unsure about what is appropriate, it is better to be slightly more formal than informal. You'll have the opportunity to see how you appear on the video screen before you record your video interview.
What happens if I don't want to take a video interview?
As a candidate, the invitation you receive to take your video job interview will be from the employer you have applied to. It's good news for you if you have been invited, as it means that the employer is interested in pursuing your application. The video interview responses that you record are secure and can only be viewed by the employer.
Bear in mind that other selected applicants will go through the same online job interview process as you, and once the video interviews are completed, the employer reviews and assesses the candidates for final selection. Video interviewing ensure fairness as all candidates for a particular job are given the same set of questions with the same amount of time allocated for each answer. This is your opportunity to 'showcase' yourself and let the employer know who you really are. If your application is only supported by your CV, you may miss out on a face-to-face interview later.
What if I've never used a webcam or maybe don't have one?
Most laptops these days have built-in webcams which you may or not even be aware of. If you have never used the webcam facility, the Criteria video interviewing system automatically detects whether a webcam is connected to a computer and enables the user to check video and sound quality. It's a very easy process and you don't have to be technical!
Alternatively, your video interview can be taken on an Apple iPhone or iPad, running iOS 12 or higher, using Safari browser, or an Android phone or tablet using Google Chrome as your browser.
What are the technical specifications for video interviewing? 
The Video Interviewing tool is a web-based application, meaning it runs through the browser (like Chrome or Safari) itself and should therefore be accessible by all common brands and devices. You do not need to download a separate app to complete your video interview. The device you use must have access to a microphone and camera and we generally recommend using a laptop or desktop computer, rather than a phone or tablet.
Please note that some older devices will not allow browsers to update to a recent compatible version. If your device will not allow you to make required updates, you will have to change to a different device.
I'm seeing a grey screen, what do I do?
Please refresh the browser page. If this does not resolve the problem, check whether the browser version you are using is up to date via https://www.whatismybrowser.com/. If an update is required, please go through with the update. Once the update is complete, close the browser down, then log back in to continue. If the problem persists, try switching to a different browser.
If you are unable to complete the necessary updates, you may need to switch to a different device, as some older devices do not permit the necessary browser updates to take effect.
I started my interview, but it got interrupted. How do I continue?
If you use the original video interview link that you were provided, you will be able to resume from where you left off.
How can I confirm my interview is complete?
If you go to www.oda1.com and input your Event ID, you will see a message on screen confirming that your video interview has been submitted. If you do not have your Event ID, you can contact our support team (via chat on the bottom right-hand corner of ODA1.com), and our team can confirm from our end whether or not the video interview has been submitted.
My camera and microphone access check failed, what should I do?
If you run into this message, complete the following steps:
Ensure both the Camera and Microphone are plugged in and accessible.
Ensure no other programs are currently open that are accessing the camera.
Try your camera and microphone in another program to check if the issue is device or browser related.
Check the security permissions & settings of your browser to ensure the right devices are selected and allowed access to our website. If you're on a Mac or iPhone, please check your device security settings also allow access to your chosen browser.
If you've tried the above and are still not able to progress past this point, please contact Criteria Support (see next section).
I need further technical assistance with my video interview, how do I contact the Support Team?
For assistance with your Video Interview, please contact Criteria Support via the chat function in the bottom right corner of ODA1.com. One of our team members will be happy to assist you. You'll be asked to provide the name of the company you are applying to, as well as your email address and/or Event ID.
If you have any problems during your interview, you can use the chat box to connect with a live support specialist to assist you. If you're having technical issues and you haven't started your interview, you can contact support via email at support@criteriacorp.com