TEAM PERFORMANCE
Level up your team's performance
The strongest teams complement the strengths of their members. And that's important, because cohesive teams drive higher performance, leading to measurable success for your overall business. But how do great teams form? Is it just chemistry? Leadership? Luck? Sure, sometimes.
But if you're looking to reliably build high-performing teams, don't leave it to chance. Use pre-employment assessments to understand the individuals that comprise a team – use science to see who will collaborate well, resulting in increased hiring efficiency and overall organizational effectiveness.
Start a Free Trial   Talk to an Expert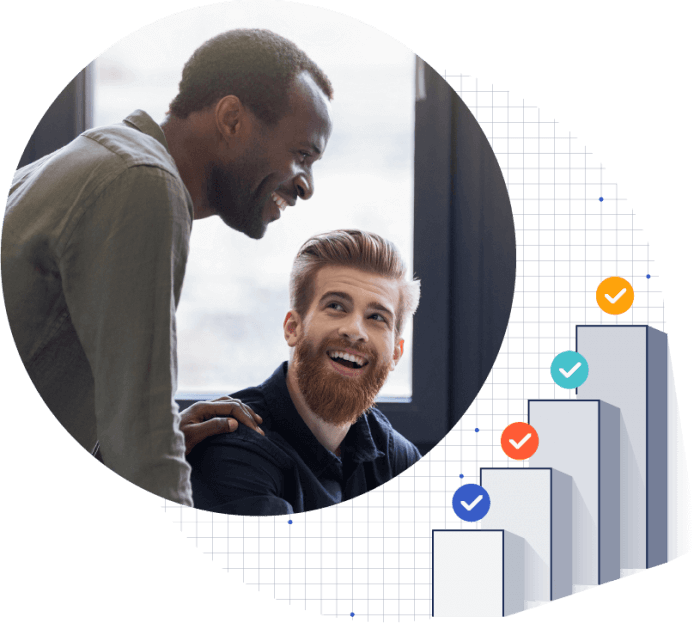 How to build a strong team
It doesn't matter if you have dozens of employees or thousands of them, all businesses perform better when everyone works together. The strength of your team often determines the success of your business. But in order to fully understand your teams, you have to understand the individuals who make them up.
These are individuals with their own goals and ways they work best. The most reliable way to create a successful team is for the people in the team to support each other and bring out the best in their coworkers.
Every organization will have a different take on what makes a high-performing team. After all, different workplaces value different qualities, making the definition of "strong team" largely subjective. The key here is to recognize what traits you and your organization consider most important.
After you've determined these key traits, you can evaluate potential team members using that criteria. Assessments are a clear-cut way to identify which candidates are likely to mesh well with other members of your team.
The most effective assessments to determine which employees and potential new hires will work best in your workplace are those that measure emotional intelligence, cultural alignment, collaboration, and personality.
Tools for improving team dynamics
Criteria hosts a wide range of tools created specifically to help you establish and measure key team attributes. Let's take a peek at some of the Criteria assessments that are designed to help you create highly functional teams.
Emotify
Emotify measures emotional intelligence, providing reliable insight on how a person perceives, responds to, and reacts to specific situations in the workplace. Candidates who demonstrate high emotional intelligence tend to make good leaders, get along with others, and drive productivity across their team.
To better understand the relationship between emotional intelligence and team performance, JVR Psychometrics partnered with Criteria. This exercise revealed that employees who scored high on Emotify shared key traits that directly impacted team performance. Employees who performed well on Emotify were:
23% more likely to display acts of kindness towards coworkers
20% more likely to react appropriately to a crisis
18% more likely to maintain composure under pressure
18% more likely to be open to others' views.
You can learn about their other findings in the full case study here.
Employee Personality Profile (EPP)
The Criteria EPP measures different job-relevant components of candidate personality that are directly connected to job performance. The candidate's responses are then compared to position-specific traits needed for success in particular roles.
A national tutoring services company used Criteria's EPP to assess the performance of their branch managers. After gathering the data, the results showed that 98% of the managers whose personality aligned with their role became average or above average employees. For those who didn't perform as well, the hiring success rate fell to 63%. You can read the full case study here.
Workplace Alignment Assessment
The Workplace Alignment Assessment compares how well a candidate's personal values and ideal workplace matches your organization's core values and environment. From this information, you can predict how well a potential new hire will work at your organization. This value matching helps to reduce turnover and improves long-term job satisfaction.
A professional services firm used a range of Criteria assessments, including the Workplace Alignment Assessment, in their pursuit of a higher hiring success rate. They found that after adding assessments, team collaboration had improved by 11%, boosting overall job performance. The firm attributed this improvement to the WAA identifying candidates who resonated with their company culture. Check out the full case study here.
If you're looking to improve your organization's performance, you need to focus less on individual talents and more on constructing strong teams that bring out the best in each other. Criteria's assessments can help you create teams that are positive, collaborative, and productive.