EMPLOYEE RETENTION
Improve retention and cut turnover costs
High turnover: the nemesis of any organization. To fix a headcount hemorrhage, you first have to understand why employees choose to leave. Next, you have to improve the way you treat and work with the members of your team.
You can trust Criteria's assessments can help you to build a team of committed and aligned workers, creating a clear path to improve your retention rate.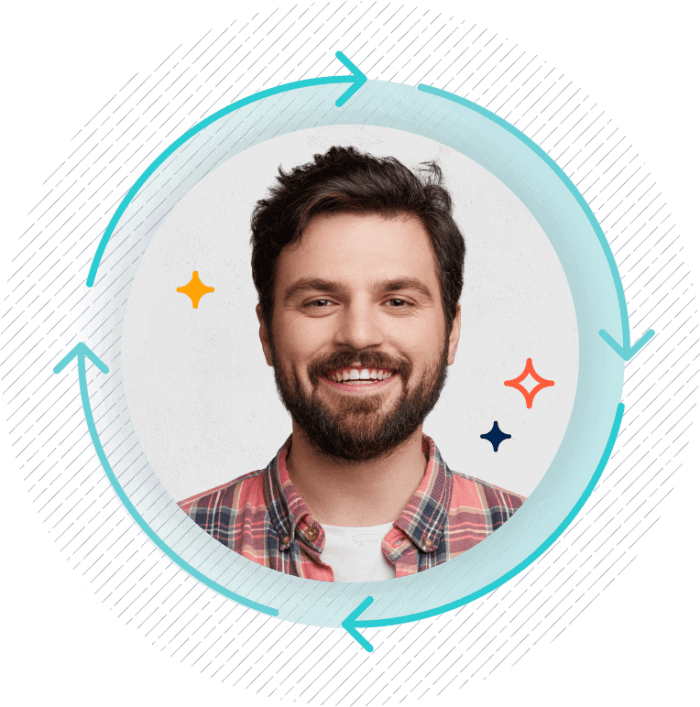 The impact of high turnover
High turnover continues to plague the hiring landscape. When employees leave your organization, there's an unfortunate ripple effect. You lose valuable experience, productivity dips, and any training you invested literally walks out the door. It's already not an ideal situation.
But then you have to consider the cost of hiring their replacement. That's a lot of time, money, and effort spent on backfilling a position instead of going towards more profitable activities. And we haven't even touched on what turnover does to worker morale. High staff churn rate puts stress and increased pressure on remaining employees, and may even lead them to consider leaving too.
The most painful part of turnover is that it's often preventable – provided you take steps to avoid it. If improving your staff retention rate is a high priority for your organization, there are two ways you can accomplish it.
First, you have to create a work environment that is supportive and fulfilling for your current employees. That's definitely easier said than done, but keep in mind that the best places to work don't just focus on salary and benefits alone. Efforts to recognize and appreciate your staff is an important part of making your company a great place to work.
Second, an ounce of prevention is worth a pound of cure. In this case, that means hiring people who are a good fit for both the role and your organization is critical to increasing employee tenure. Criteria's assessment tools can help you build a committed and aligned workforce, creating a clear path to improve your retention rate.
But why do people leave their jobs in the first place?
It's impossible to pinpoint every reason an employee decides to quit. But in general, if you're suffering from poor retention, there are some common culprits:
You're underpaying your staff.
You're not treating your staff well enough.
Your competitors are offering more than you.
Your employees are overworked.
Your workers are burnt out from high-pressure company culture.
You're hiring the wrong people.
Think long and hard about whether any of the above apply to your organization. Recognizing the problem is an important first step. It's only after you identify the problem that can you start working to fix it.
Become an employer of choice
If you're dealing with high turnover, it's time to embrace change. Since employee behavior is a reflection of general human nature, it's often the little things that make all the difference.
Make efforts to create a more positive work environment. Vocalize your appreciation for your employees' efforts. Communicate often and connect with your employees on an individual level. Engage your employees by promoting a social culture within your organization. Support your employees in achieving a healthy work-life balance that works for them.
Offer your employees opportunities for growth by acknowledging their individual interests and aspirations. If employees feel your company gives them room to grow and reach their full potential, they are likely to stay with your company longer.
However, we're not saying that the big things – like higher pay and benefits – aren't a worthwhile investment. Pay your employees the salary they deserve and conduct research regularly to stay ahead of the competition. When an employee asks for a raise, take them seriously and consider it. After all, the cost of replacing them is almost certainly higher than the raise they're asking for.
Hire the right people
Criteria assessments are a reliable way to find candidates that possess the qualities that will lead to success within your organization – things like integrity, productivity, and aptitude. By hiring productive, committed candidates, you'll reduce your rate of involuntary turnover due to underperformance. Hiring people whose personalities align with success in the role will reduce voluntary turnover, as employees are less likely to resign due to job dissatisfaction.
We've got a whole host of assessments that can help you determine which candidates have the strongest fit for a specific job. Just select the Criteria assessments best suited to your industry and organization's specific goals.
A manufacturing company used our Criteria Basic Skills Test (CBST) to compare candidates against a standardized benchmark, created from the scores of their current employees. They found that candidates who scored above the benchmark had 17% greater tenure, were 20% less likely to quit, and were 88% less likely to get fired. You can read the full case study here.
Our client Clean MD saw turnover fall from 37.7% to 22% within a year after adding three Criteria assessments to their hiring process: the Workplace Productivity Profile (WPP), CBST, and Employee Personality Profile (EPP). Learn more about their strategy in the full case study here.
Sometimes it comes down to confirming that candidates have the skills they need to succeed. Heartland ESCI, a large call center, realized they had a serious retention issue. They had a low retention rate, averaging just 90 days – meaning that half of their staff had been hired in the past three months. This had resulted in lower productivity due to the sheer number of new, less experienced personnel.
In order to right the ship, they introduced assessments to their hiring process. They added the Criteria Cognitive Aptitude Test (CCAT), the EPP, the Computer Literacy and Knowledge Test (CLIK), and the Typing Test to improve their new hire productivity rates and reduce turnover. It worked. Within a year, their turnover rate had fallen by 65%, and 91% of staff had been retained over 90 days. Check out the full case study here.
Criteria assessments can help you identify the right person for your roles right from the start, a critical step in increasing employee tenure. Our experts are here to help you create a robust employee retention strategy that drives results.