CAMPUS RECRUITMENT
Improve on-campus recruiting efficiency & uncover hidden talent with assessments.
Criteria's assessments and structured interviews are engaging, fast, and accurate, helping you find top college graduate talent while providing a world-class candidate experience.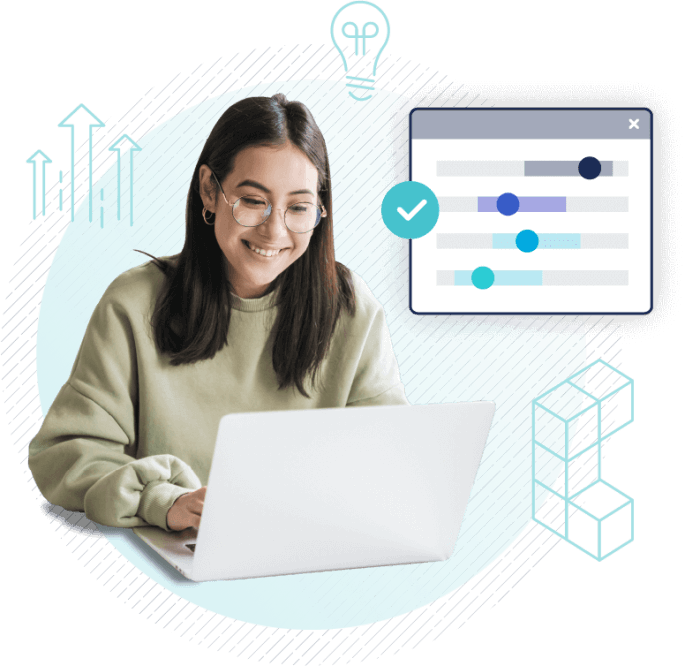 Innovative Assessments that College Students and Grads Love
We've merged rigorously validated assessments with the latest in game design to deliver an immersive and engaging experience for a new generation of college students and job seekers.
The science behind our assessments is based on decades of well-validated science designed to predict job performance. We designed our game-based assessments to measure these qualities in a fun and engaging way, helping you to identify top talent at scale, while bolstering your employer brand. Check out a few of our game-based assessments used for campus recruitment: Cognify, Emotify, and GAME.
Recruit University Students and Graduates at Scale with Video Interviewing
Criteria's on-demand video interviewing platform enables you to meet graduate talent quickly and at scale. Our world-first diversity, equity, and inclusion features help to create a structured interviewing process that is objective and fair.   
Make the best impression and humanize the screening process by delivering a rich, brand-immersive experience that showcases your employer brand. And give your graduate candidates insight into your work environment with immersive, scenario-based assessments based on real work situations.  
Reduce Bias and Bring in a More Diverse Team
The traditional hiring process of resumes and unstructured interviews can add a lot of bias into the campus recruitment process. Because recent or upcoming graduates have limited past experience, employers need a better way to assess future talent and potential. Criteria's assessments and structured interviews minimize bias and allow candidates from all backgrounds to shine by focusing on objective qualities that more accurately predict job performance.
Candidates can take the assessments and interviews anywhere, at any time, widening your applicant pool. By evaluating candidates in a fair, objective, and structured way, you can quickly and easily highlight a diverse set of candidates who have the potential to succeed at your organization. 
Expert Support Tailored to You
Our team of experienced Consulting Psychologists and Customer Success Managers are here to provide the support and expertise you need achieve your campus recruitment goals.
We provide the resources to help you select the right assessments, advise on the structure of your recruitment process, tailor training sessions for your teams, hold stakeholder workshops, and even help you identify role and industry-specific score range recommendations.
Whether you deliver the assessments through our robust assessment platform, or if you'd prefer to integrate our assessments via your ATS, we're here to coordinate and support your needs.
Achieve the Goals of Your Campus Recruitment Strategy
Criteria's assessments are rigorously validated to predict real job outcomes, such as job performance, training pass rates, retention, and job satisfaction. For campus recruitment, our assessments have helped organizations hire more candidates who are better able to pass initial training, meet performance goals, receive more promotions, and stay at the company longer.
We'll work with you to identify the critical outcomes you want to measure from the start, and continuously gather evidence to help you prove the value of the assessments to your organization as a whole.
Learn how Criteria helped a multinational professional services firm save 115 hours in interviewing time, increase their graduate intake offer acceptance rate by 11%, and increase the diversity of their candidate pool by more than 20%. Read more. 
How can I improve my campus recruitment strategy?
Filling entry-level roles is a labor-intensive prospect. Without an effective campus recruitment strategy, you could be missing out on candidates who hold incredible potential.