GAME-BASED ASSESSMENTS
Get Ahead of the Game
Take your candidate experience to the next level with game-based assessments that combine the predictive power of proven science with a fun and immersive experience.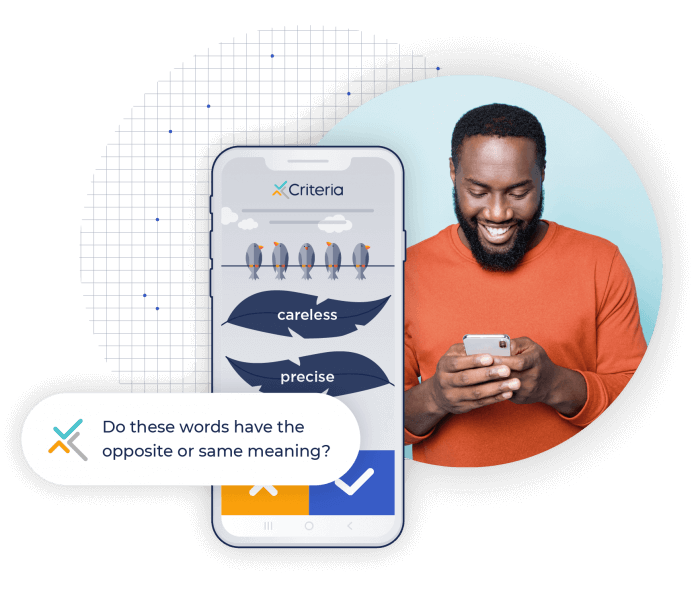 Transform the candidate experience with game-based assessments
Criteria's game-based assessments fuse state-of-the-art game design with tried-and-true science. Our games provide the level of insight you expect from Criteria assessments to drive better hiring decisions, while simultaneously elevating your candidate experience with rich and immersive gameplay. Criteria's game-based assessments are developed in-house by our team of I/O psychologists, who rigorously test and validate each assessment to provide you with accurate results about a candidate's abilities.
And candidates love it: Rather than taking a test that feels like a test, candidates are immersed in an engaging and interactive experience. Survey responses from our validation and trial period confirmed not only that test takers enjoy game-based assessments, but also that candidates perceive these assessments to be a more fair and accurate measure of their abilities.
Start your candidate journey on the right foot
Enhance your employer brand with advanced candidate UX while gaining deeper understanding of each candidate that you can rely on to make better talent decisions.
Candidate experience matters now more than ever. Employers are recognizing the value of a positive experience at every step of their candidate journey – after all, the candidate experience is ultimately the first stage of new hire onboarding. Criteria's game-based assessments – Cognify, GAME, and Emotify – are scientifically validated to predict job performance. By including them in your recruitment process, you'll be able to identify strong candidates with a fast, fun, and robust assessment experience.  
At the same time, you signal to your prospective new employees that you care about their candidate experience and the process they go through to become part of your team, affirming your organization as an employer of choice.
"Easy to use, challenging, and applicable. Makes you think about how the game applies to your skill set and those required by the employer."
Powerful insights that drive talent success
The data gathered from Criteria's game-based assessments are analyzed through the same psychometric lens and principles you trust to help you make informed hiring decisions. Rest assured that you're receiving the same robust results you expect traditional pre-employment assessments to deliver on – with more focus on candidate engagement.  
Our games capture and measure different play styles and responses, from which we can infer how these approaches might translate in other contexts. From the thousands of data points we collect on every candidate, you'll get a clearer picture of their abilities than you would from a simple questionnaire alone. Get the same actionable data that pre-employment assessments provide, while offering a better experience to your candidates.
Criteria's game-based assessments are applicable to a wide range of roles, experience levels, and industries, and are fortified against "faking" and self-enhancement. Game-based assessments can also help reduce test anxiety in your applicants. Candidates can become so engrossed in the games that they forget they're taking an assessment, making them less stressed and supplying you with more accurate information about their on-the-job performance.  
Explore our game-based assessments
Our game-based assessments foster a fun, engaging, and enjoyable candidate experience that improves your employer brand while providing ability-based, rigorously validated psychometric results. Find the right game-based assessment for you and enhance your hiring process.