The pandemic radically changed the way we work, catalyzing the move to remote work. But the hiring process experienced its own dramatic shift, normalizing virtual interviews out of necessity, since face-to-face interviews were no longer an option. But does video interviewing have staying power in 2022 and beyond?
We decided to find out. As a part of our 2022 Hiring Benchmark Report, we asked our respondents whether or not they conduct video interviews – and what kinds of video interviews they conduct. We've actually been tracking the popularity of video interviewing since 2019, giving us a valuable historic lens. Through this lens, we can see whether video interviewing is just another trend, or if it has true staying power.
In 2019, just 22% of our respondents were using video interviews as a part of their hiring process. In 2020, that percentage more than doubled, jumping to 58% in response to the Covid-19 pandemic. But as the world started to reopen in 2021, video interviewing remained popular, with 53% of respondents still using it to evaluate their candidates. This year, 55% of respondents reported that they use video interviewing, indicating that the use of video interviewing has largely stabilized.
Image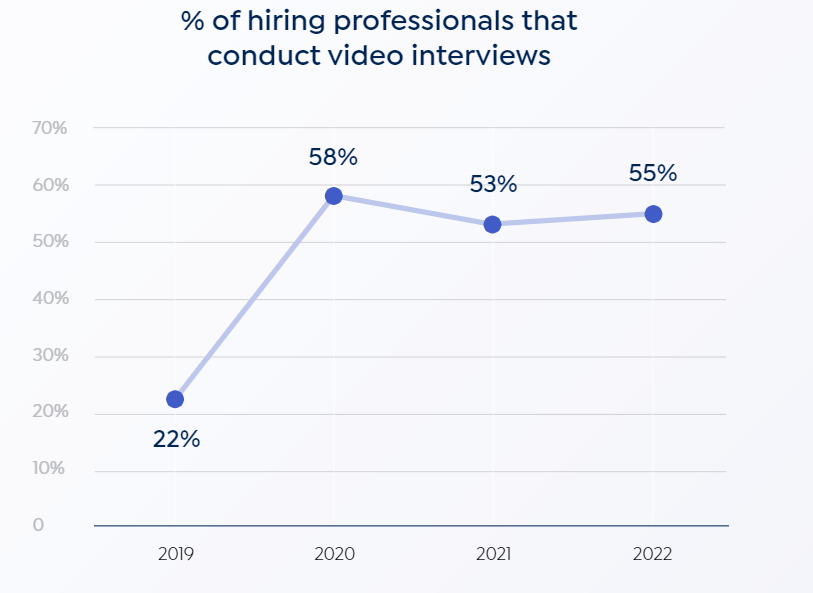 Why has video interviewing quickly become a mainstay for many organizations? First off, video interviewing is incredibly convenient for hiring managers and job candidates alike. Interviews can be conducted from anywhere, reducing the burden of interview coordination for interviewers and interviewees.
It's also a better experience. Research from Indeed shows that 77% of employers believe that virtual interviews provide a better candidate experience. And that's not just a hunch: research shows job seekers report feeling less anxiety about video interviews compared to in-person ones (especially for women, people of color, and neurodivergent candidates). That's because video interviewing alleviates stress candidates have about getting to an interview location, being late for reasons outside their control, and overall feel less intimidated by the video interviewing process.
Finally, video interviewing is just as effective at finding great talent as traditional face-to-face interviews. Arguably, they may even be a better tool for surfacing top talent. If you use a dedicated video interviewing platform, many offer blind hiring features and you're able to easily craft a structured interview, both of which reduce overall hiring bias.
Our latest research shows that there are two main types of video interviews currently in use. The first is a live video interview, conducted a lot like any virtual meeting. The second type is the asynchronous pre-recorded video interview, where candidates record their responses to prompts and submit them to reviewers, who can watch them back at any time. 89% of our respondents use live video interviews, making it the clear winner of the popularity contest. Just 9% report using the asynchronous method.
Image

Each type has its own merits. Live video interviewing is a closer analog to the traditional in-person interviewing that has been the standard practice for so long. But asynchronous interviewing offers considerably more flexibility. Candidates can record their responses at whatever time works best for them. Hiring managers can set aside time to review a batch of several candidates whenever fits easiest in their schedule, increasing the efficiency of the candidate review process.
Due to its convenience and wide appeal to both candidates and hiring managers, video interviewing has proven that it's here to stay in 2022 and in the future. Whether you use a specific video interviewing tool (8%) or just leverage a general purpose video platform like Zoom, Skype, or Teams (90%) to conduct your video interviews, know that you're in good company.
To learn more about the biggest trends in hiring, download your copy of the 2022 Hiring Benchmark Report.