PRODUCTIVITY
Happiness leads to productivity
There's a direct relationship between productivity and profit. And we already know worker productivity is a high priority for your business.
But bear in mind that productivity isn't all about optimizing workflows. Your HR practices – both pre- and post-hire – can make or break the productivity of your workforce. How are the two related? Let's investigate.
Start a Free Trial   Talk to an Expert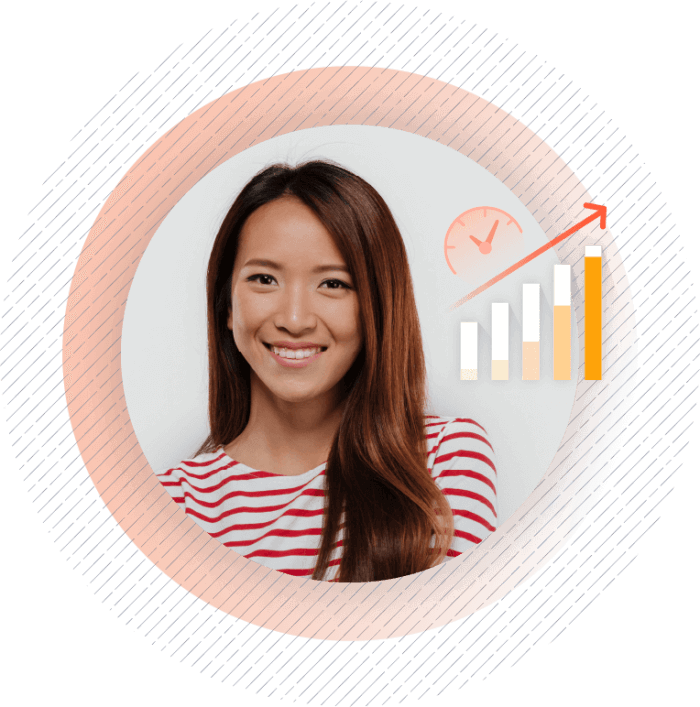 Satisfied employees are more productive
It's important to keep your employees feeling fulfilled. At the end of the day, you care about them as human beings, not just the skills they bring to work each day. But nurturing your employees is more than just a selfless endeavor. When you invest in the happiness of your employees, you're also investing in your bottom line.
Research shows that organizations with happy employees are more engaged, bringing in an average of 2.5 times more revenue than their less engaged counterparts.
Happy employees are more productive, more collaborative, and more committed to your company and the success of your business. At the end of the day, investing in employee happiness positions you as an employer of choice, helping to attract better candidates over time.
Focus on everyday benefits
When employers a looking to improve employee happiness, often the first thing that comes to mind is increasing salaries. And while paying a competitive, living wage is paramount, money isn't the only thing that matters to your employees.
Tangible benefits that improve the day-to-day lives of your workers can make a huge impact on your employees' quality of life – without making a large impact on your budget. Flexible arrangements, remote work policies, generous parental leave, education stipends, and wellness benefits go a long way in making employees feel valued as people, not just workers.
Soft skills predict productivity
Most hiring managers prioritize hard skills during recruitment. Work history and education have long been the focus of recruitment efforts. And while these qualifications certainly have value, they shouldn't be the only things you take into consideration when hiring.
Soft skills are highly predictive of success. That's because these skills are transferrable; they are innate and basic skills that apply to any and every job. Critical thinking, attention to detail, communication, leadership, problem solving, and work ethic are all soft skills you look out for during recruitment
These soft skills have a direct impact on worker productivity. For example, employees with strong communication skills get the right tasks done at the right time. Workers who have excellent problem solving skills can work more independently and identify opportunities for process improvement. Hiring creative workers means that your workforce is more likely to innovate and stay ahead of the competition.
Strong work ethic reduces absenteeism
We know that sounds blatantly obvious. But what's less evident is how much you can control absenteeism by making informed decisions while hiring. It's your responsibility promote safety, integrity, work ethic, and integrity in the workplace by hiring people who prioritize these values.
And while perfect attendance isn't attainable (everyone gets sick from time to time), hiring candidates with strong work ethic and integrity means they are less likely to play hooky or request last-minute time off. Plus, safety-conscious workers are less likely to have accidents, leading to fewer absences in the long run.
Identify dependable employees with Criteria's reliable assessments
Criteria can provide you with science-backed strategies, assessments, and interview techniques to help you pinpoint your strongest applicants.
Evaluate soft skills
Assessing soft skills during the hiring process isn't always easy. But Josh Millet, Criteria's CEO, has his interview questions ready to go. Over time, he's found that revealing a candidate's attention to detail, adaptability, and active listening skills have lead to a higher-quality hire. Feel free to steal Josh's top three questions for your next interview!
But if you're seeking an even more reliable way to identify your candidate's soft skills, Criteria's psychometric assessments have you covered. That's because they're designed to find the information you can't glean from resumes or interviews alone.
A market research firm used the Criteria Basic Skills Test (CBST)'s to predict candidate productivity. They had their research associate take the CBST as a part of their hiring process, and then firm assessed their productivity ratings later on. They found that the productivity ratings of those who passed the CBST were 63% higher than the ratings of those who failed. You can read the full case study here.
Additionally, strong correlation has been established between emotional intelligence (EI) and resilience – a soft skill that allows you to maintain productivity even when you're under pressure.
Criteria's Emotify measures candidate EI so you can understand their capacity to perceive and manager emotions – and by extension their level of resilience.
Predict employee attendance
We've designed a suite of assessments to calculate candidate integrity, work ethic, and workplace habits that you can use to predict how likely a candidate is to show up for work.
For example, a data management company started using the Workplace Productivity Profile (WPP) to evaluate the integrity of their call center employees. Next, they compared WPP scores with their attendance ratings. They found that employees who had medium or high WPP scores were 4 times more likely to have a good attendance record than those with low scores. See the rest of their findings in the full case study here.
You can even combine multiple assessment types to gain well-rounded insight into each of your candidates. One of our clients, an emergency services provider, added cognitive, integrity, and EI assessments to make more informed decisions during their hiring process. When comparing these new hires to people who didn't take assessments during recruitment, they found that their new hires took 19.8% less sick leave and made 76.7% fewer workers' compensation claims than their unassessed counterparts. See what else they found the full case study here.
If you're trying to boost organizational productivity, you have to think outside the box. Use predictive hiring methods to increase the number of productivity-inclined hires you make, and then keep them fulfilled by fostering a supportive work environment.