Structured Digital Interviews
Elevate Your Talent Management Strategy with Structured Video Interviewing
Create a structured interview process that is objective, fair, and minimizes bias with our on-demand video interview platform. Tap into talent across all backgrounds using world-first diversity, equity, & inclusion features that help you attract and build a more diverse workforce.
Request A DemoLearn About Pricing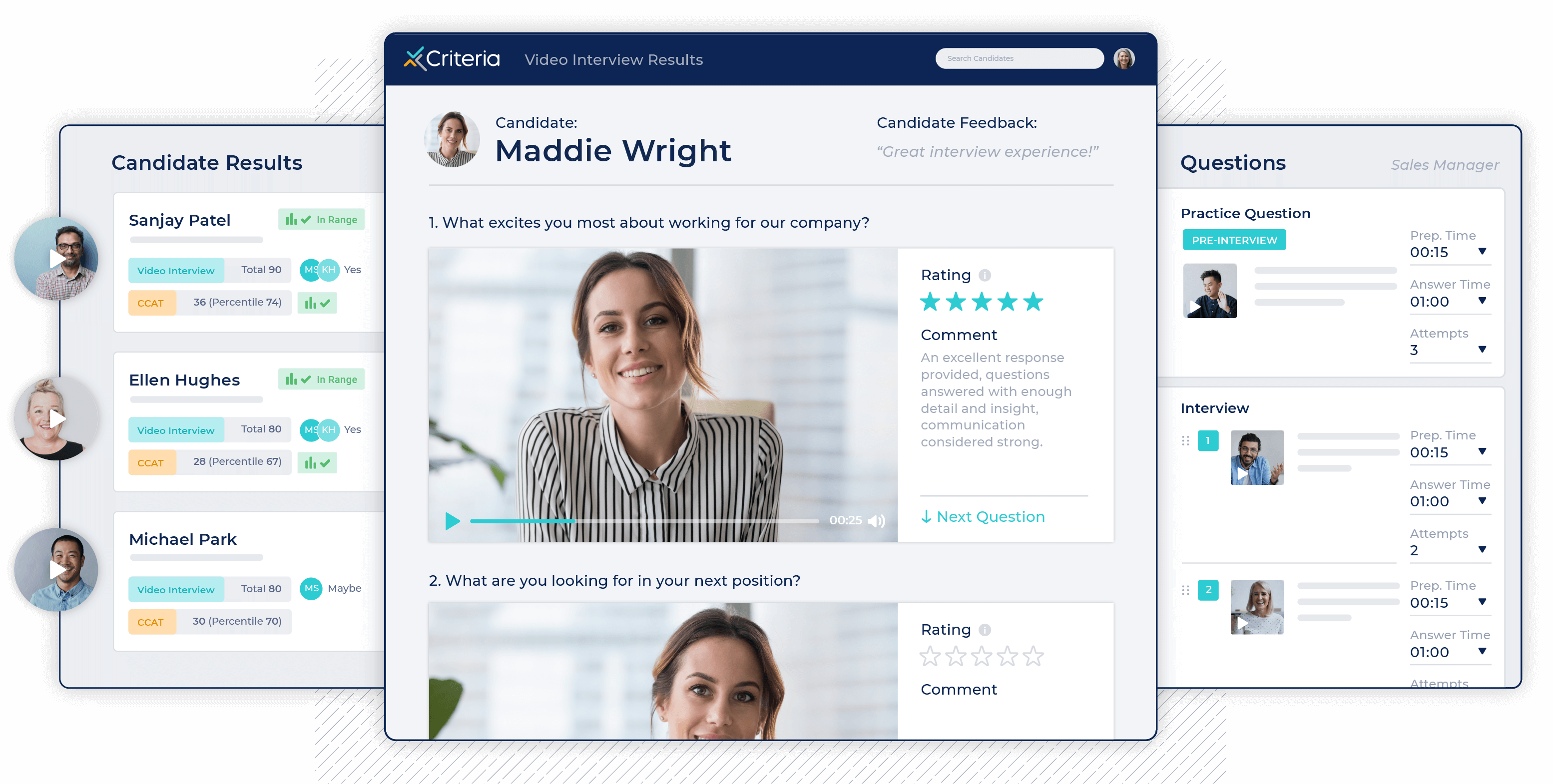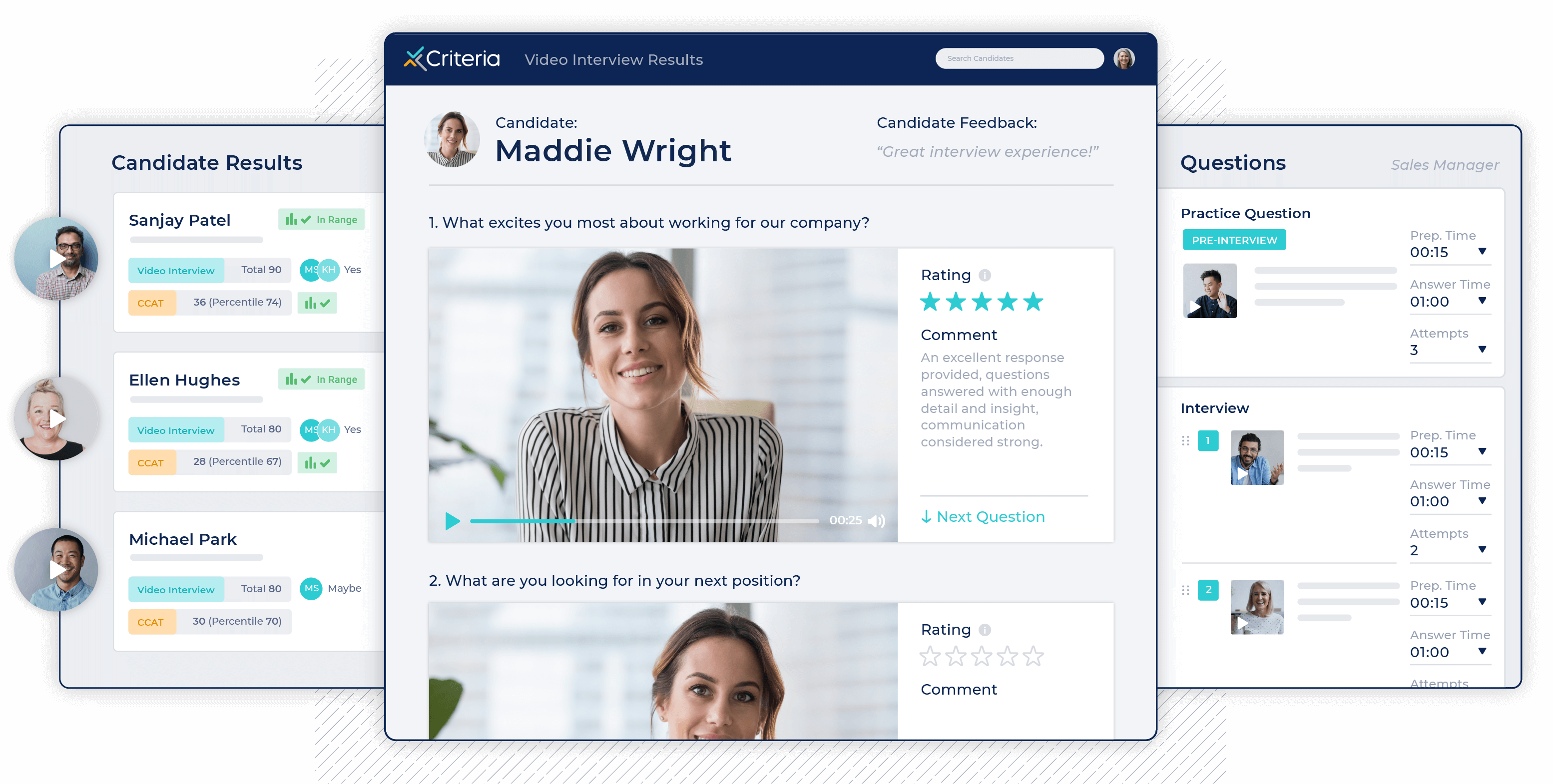 Screen efficiently with digital video interviews
Fill your interview pipeline quickly and meet your candidates faster. Hiring teams can create one video interview to assess a broader talent pool. Replace time-consuming phone screens with recorded video interviewing that elevates your recruitment process and helps you complete your screening process 75% faster.
See Criteria's asynchronous video interview platform in action
Attract and build a more diverse workforce with on-demand video interviews
Create a level playing field for your candidates by creating consistency in your screening process with asynchronous video interview software. Tap into a structured interviewing process that evaluates candidates fairly. Mitigate unconscious bias using inclusive hiring tools that support candidates with diverse and neurodiverse needs.
Experience our world-first blind video interview solution
Put performance first by taking personal information out of the hiring equation. Use world-first diversity, equity and inclusion tools to mask personal details, turn off the candidate's video, and disguise voice to reduce biases around ethnicity, appearance, and gender.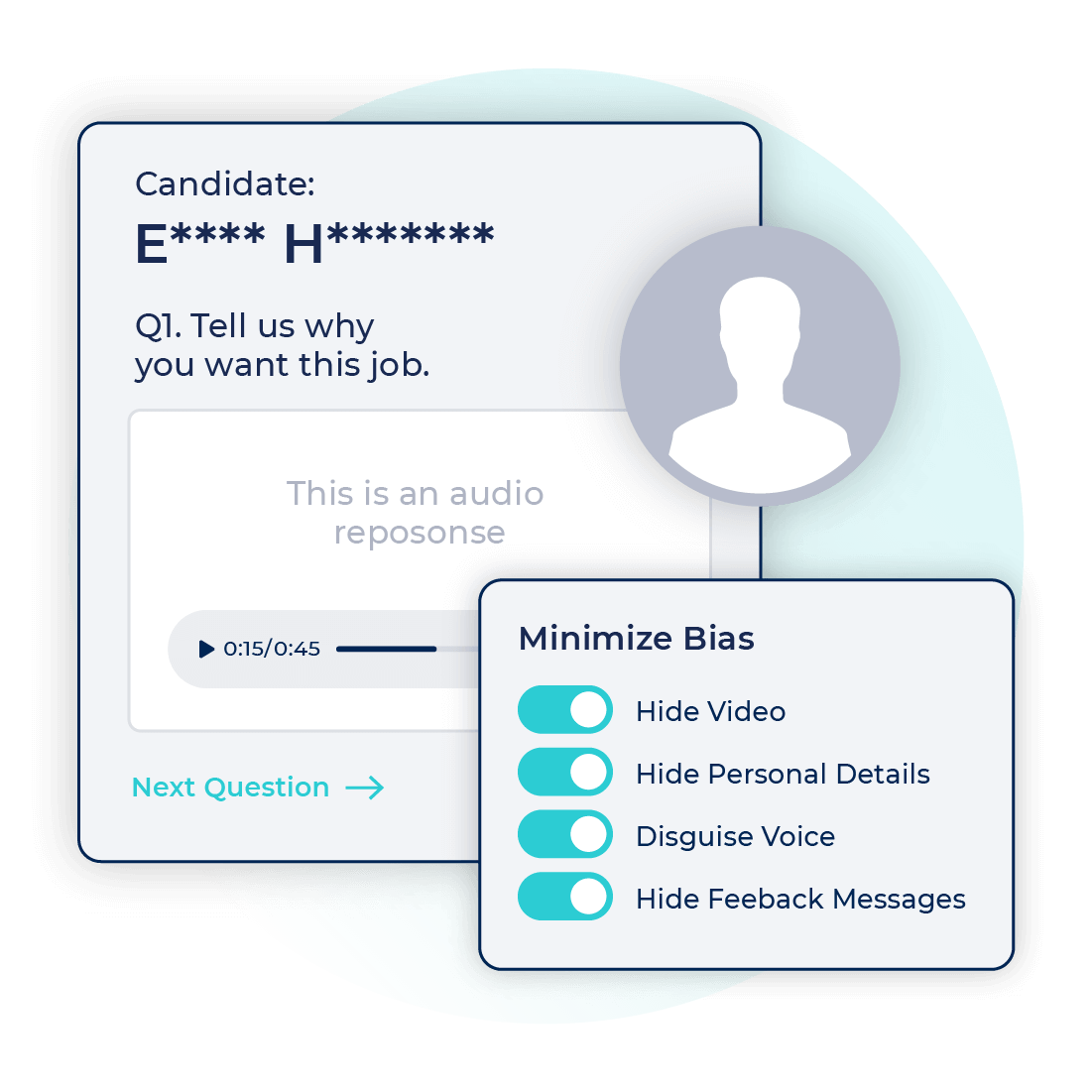 Improve diversity with asynchronous video interviewing
Welcome diverse and neurodiverse candidates by creating an inclusive hiring process that embraces a wide range of thinking styles and provides the opportunity for everyone to apply, regardless of their background or circumstances.
Build a unique candidate experience by making reasonable adjustments at the candidate level. Give them every opportunity to participate and put them at ease by providing multiple retake opportunities, extra time to prepare and/or respond to questions, or an extended deadline.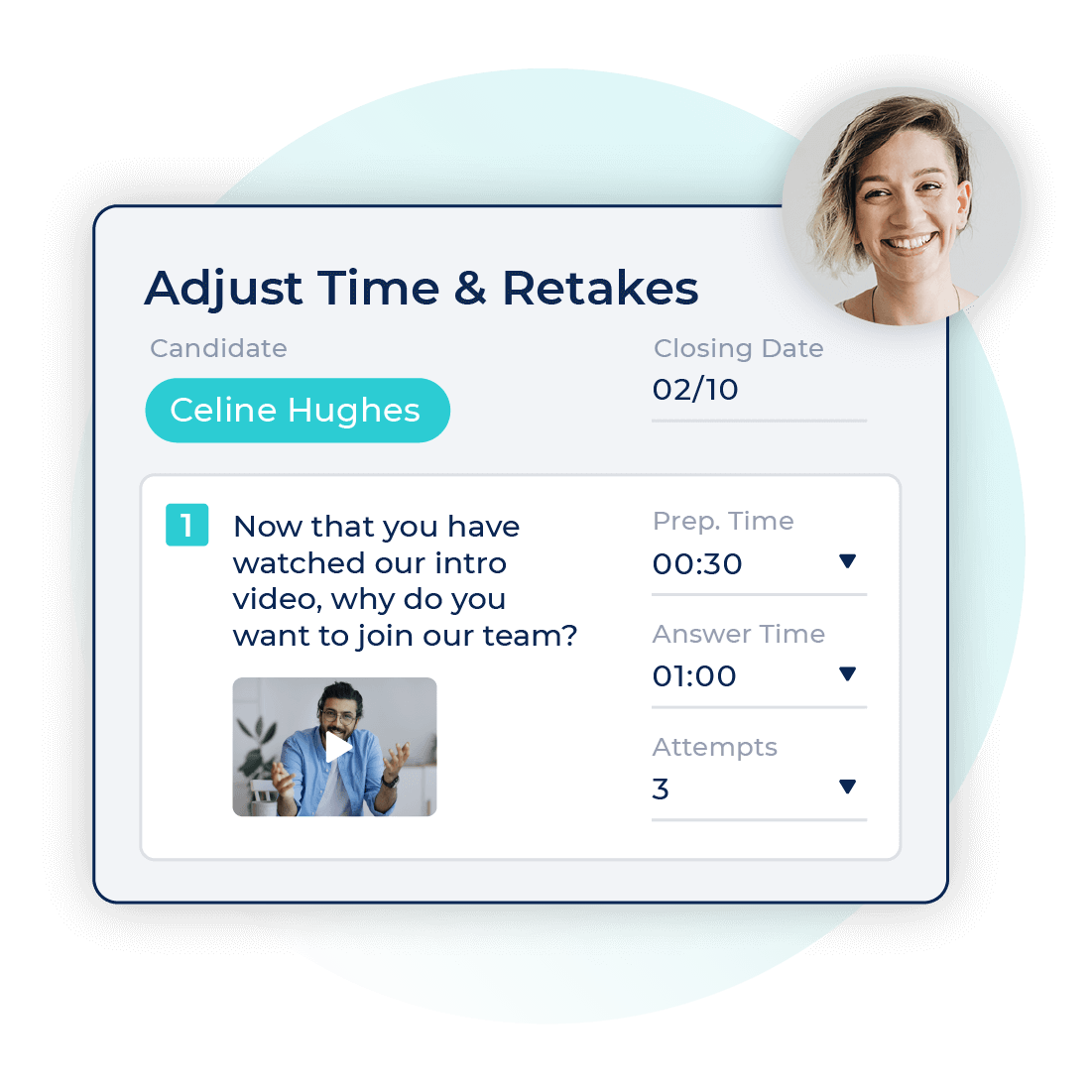 Remove hiring bias with structured interviewing
Compare candidates fairly by assessing them across job-relevant competencies and against a clear, standardized, and objective rating system. Develop a standardized evaluation guide for each role and provide clear instructions for evaluators to assess candidates consistently.
It's also easy to encourage independent collaboration and reduce groupthink bias. Evaluators won't see other evaluators' ratings during the review process, so they can make their own assessment without being influenced by the opinions of others.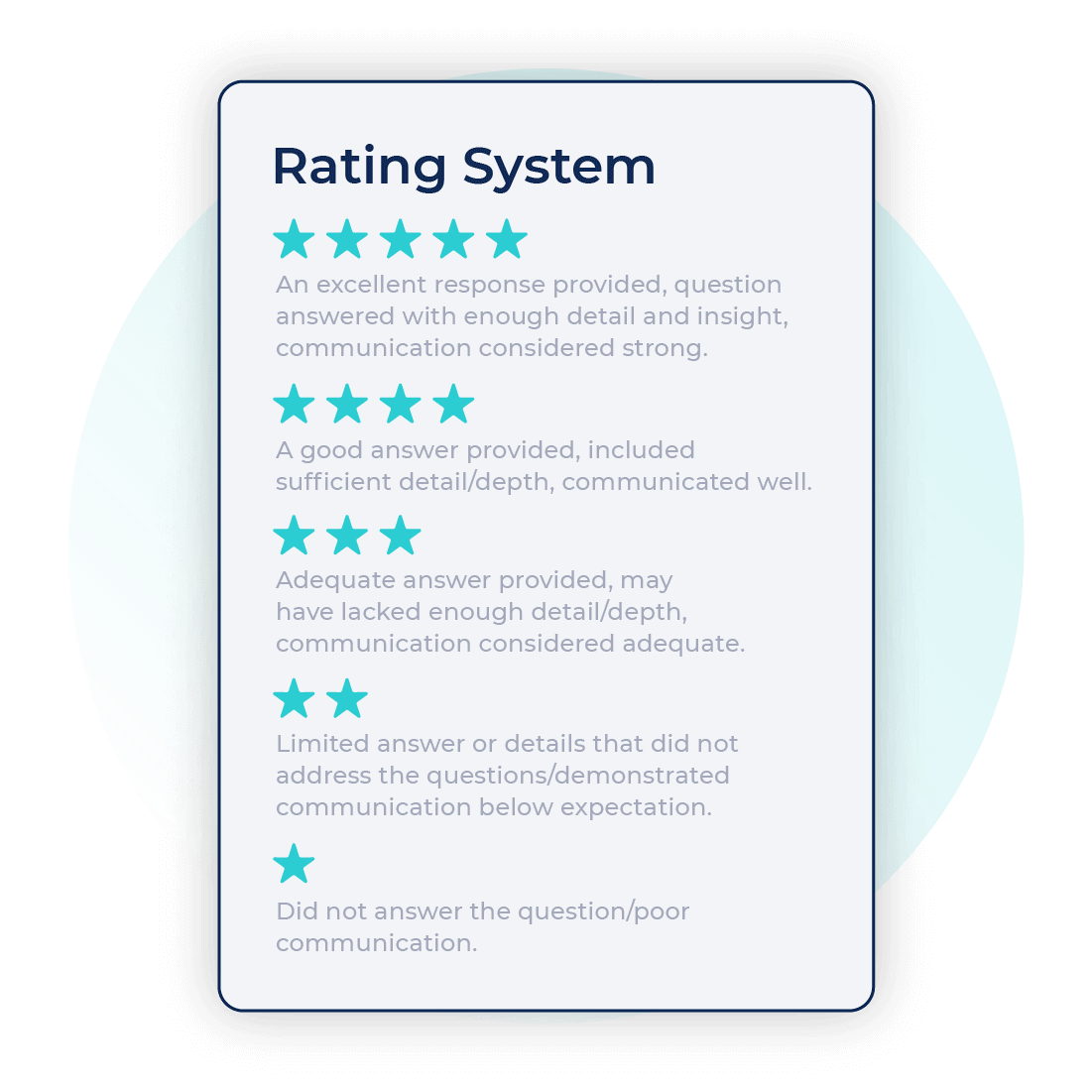 Get Started with a Demo of our Video Interview Platform
Transform your recruitment process with Video Interviewing
Structured video interviews enhance your employer brand
Never miss an opportunity to connect with candidates. Delight candidates with a rich brand-immersive experience that showcases your employer brand. Give candidates the opportunity to shine without stress with the option to enable practice questions, offer retakes, and provide the convenience to complete the on-demand interview anytime, anywhere. 
Elevate the candidate experience 
Showcase your employer brand 
Humanize an otherwise automated screening process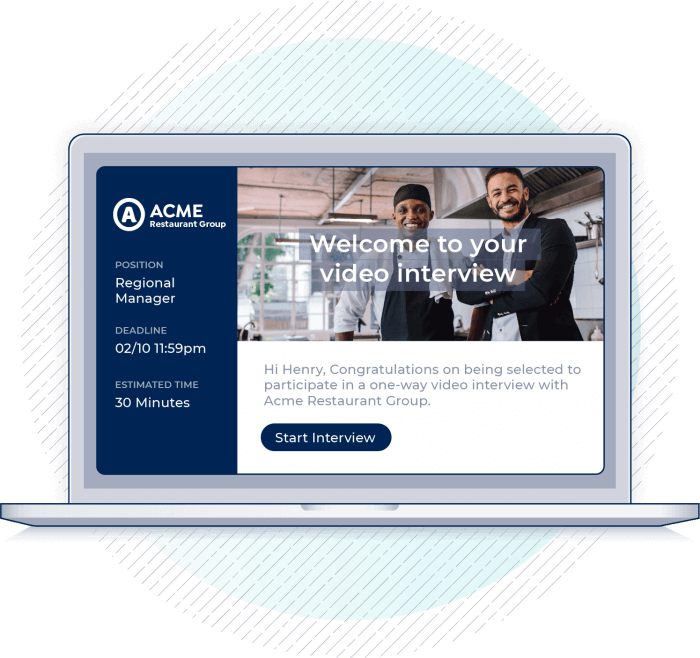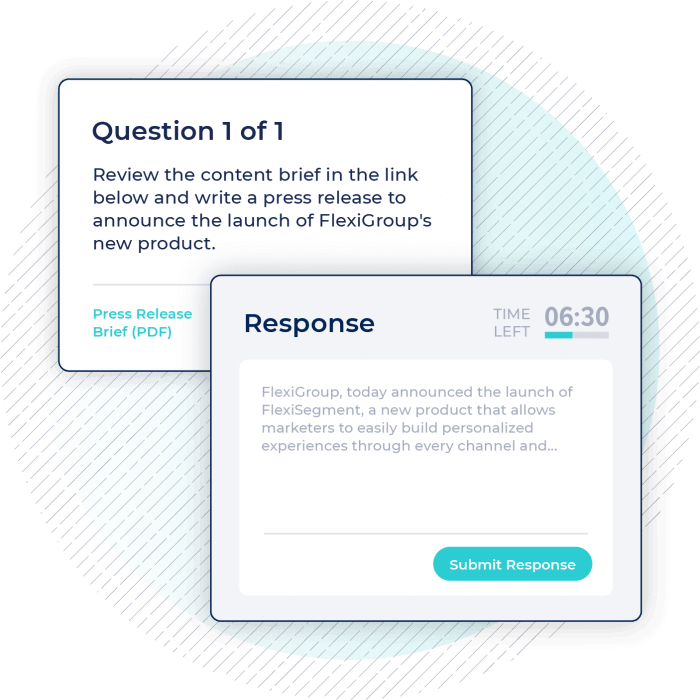 Create immersive, scenario-based assessments with our video interview software
Evaluate who can perform the role based on real work scenarios. Immerse your candidates in a role and gather insights on how they approach specific situations and undertake a task. 
Immerse candidates in real work simulations 
Design situational judgement tests 
Provide real-life job previews and scenarios 
Structured video interviews improve hiring success
Deliver structured video interviews alongside Criteria's assessments to make better, more informed talent decisions. Evaluate asynchronous video interviews, compare candidate assessment scores, and review insights all in the one place. You'll save valuable time and get the context you need to make objective, data-driven talent decisions. 
Reduce the risk of poor hires 
Improve job fit 
Enhance job performance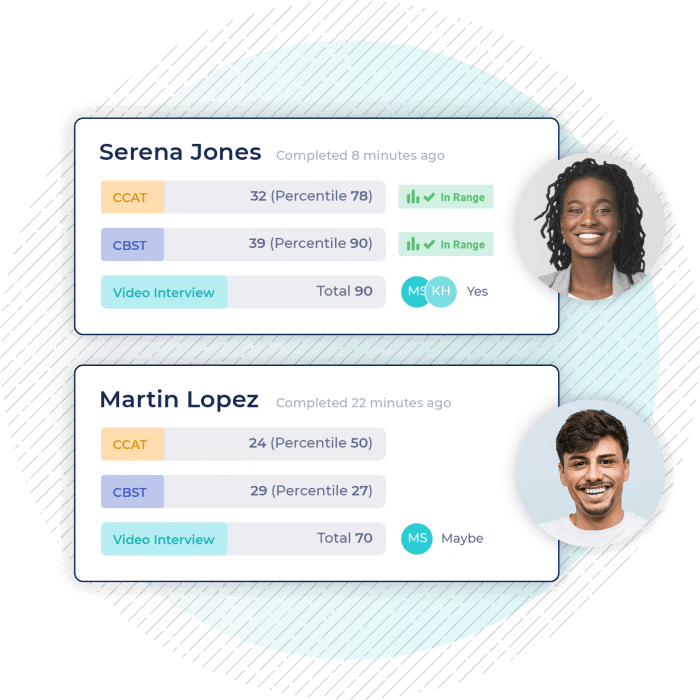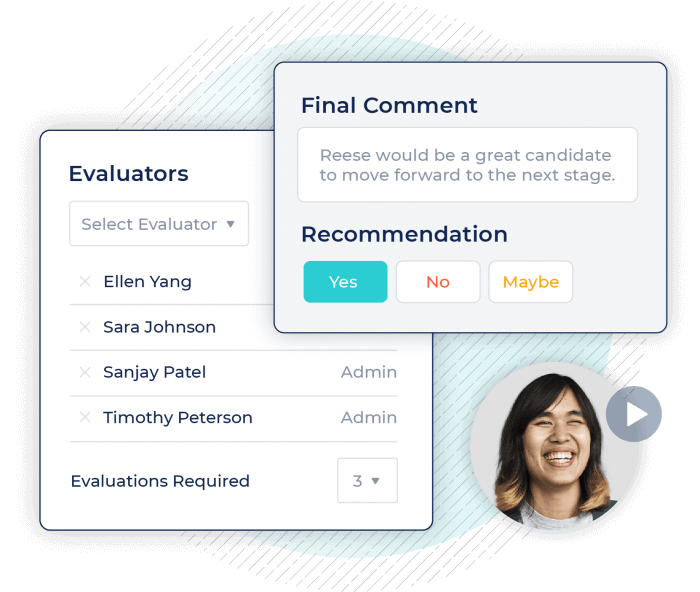 Make remote hiring and collaboration easy with video interviewing 
Hiring remotely? Adapt to today's online world and make it easy for candidates to apply – regardless of their location and time zone. Once a candidate submits a video interview recording, it's instantly available and easy for remote hiring teams to review and make comments.  
Expand your reach  
Access a broader talent pool 
Make hiring more collaborative 
It all happens right in the Criteria Video Interviewing platform
Trust us to deliver
User privacy and security is paramount. Our platform is compliant with stringent data privacy and protection policies to keep company and candidate data safe. Asynchronous video interviewing is APP, GDPR and CCPA compliant, and you have the choice of storing your data in either Australia or the US. 
Get Started with a Demo
Transform your recruitment process with Structured Interviewing 
Request a Demo
Want to learn more about structured video interviewing?
Structured video interviews are an industry best practice. Incorporate asynchronous structured video interviews early in the recruitment process and get a more complete and objective picture of your candidates.