RESEARCH REPORT
2019 Pre-Employment Assessments Benchmark Report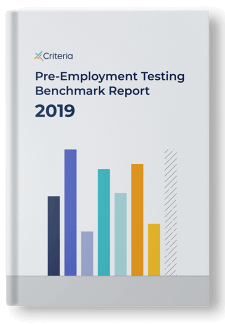 In this report, you'll learn the following:
The hiring trends of 2019
The top tools used to make hiring decisions
The top hiring challenges of 2019
And more! 
RESEARCH REPORT
2019 Pre-Employment Assessments Benchmark Report
After reading this report, you'll walk away with the following:
The Hiring Trends of 2019
From slowing hiring demand to HR spending plans, discover the trends that are affecting the way hiring professionals attract, hire, and retain their employees in 2019.
The Top Tools Used to Make Hiring Decisions
Companies are using multiple factors in the hiring process in order to make more informed, holistic hiring decisions. Discover the tools companies used the most to evaluate candidates in 2019.
The Top Hiring Challenges of 2019
Learn about how ghosting is on the rise and employers are facing the biggest challenges in both the quality and the quantity of their applicant pools.
And more! 
In this report, we'll also explore topics such as how hiring confidence has shifted, how pre-employment tests are playing a growing role in hiring, and how companies measure "hiring success".