RESEARCH REPORT
2023 Candidate Experience Report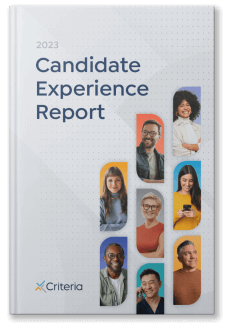 2023 Candidate Experience Report
In this report, you'll discover:
Key statistics about candidate sentiment
The core drivers of a positive candidate experience
What motivates job candidates today
And more!
RESEARCH REPORT
2023 Candidate Experience Report
About the Report
The talent landscape in 2023 has been full of contradictions.
While the Great Resignation of 2022 may be over, the economy is still experiencing the ramifications of high inflation, a still-looming recession, and a seemingly endless wave of highly visible layoffs that have rocked the talent market.
At the same time, employers continue to face challenges when it comes to winning over top talent. Why? Despite all the turbulence in the job market, the number of open jobs still exceeds the number of job seekers by nearly 2 to 1. Simply put, candidates still hold the power, and employers will have to keep competing to stand out.
This report dives into the thoughts, feelings, and desires of job candidates today. The results in the report are based on a survey of 2,059 job candidates from around the globe, representing a wide range of industries and backgrounds.
Regardless of the economy, candidate experience matters. It's just as essential as ever to understand what candidates want and need from work. The results in this report provide insight into what HR and talent leaders can start doing today to win over top talent.
Key Findings
The economic climate paints a complicated picture. 17% of candidates report being laid off in the last year, many of them more experienced candidates. But with job seekers still outnumbering jobs by two to one, we may be in a multi-speed market where some industries are affected more than others. 
Work-life balance is still the #1 priority for candidates. Despite the rising cost of living, candidates still prioritize work-life balance over better compensation or opportunities for career advancement. 37% say they've walked away from roles that couldn't offer flexibility. 
54% of candidates have walked away from a job due to poor communication. Lack of communication continues to be the biggest issue candidates face. After all, 39% of candidates report being ghosted in just the last year. 
67% of candidates are confident their next job will be satisfying. And despite the doom and gloom in the media, nearly half of candidates strongly agree that they'll be able to find a job that compensates them well. 
70% of candidates agree that assessments help them demonstrate their potential. Meanwhile, 80% of candidates say they feel positively about video interviews. 
Half of candidates prefer fully remote jobs. Three years post-COVID, remote work remains the most favored way to work, especially for women. But 15% of job seekers prefer fully in-person work, while 36% favor a hybrid model.