EBOOK
A Buyer's Guide to Pre-Employment Assessments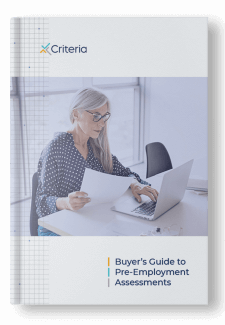 In this eBook, you'll learn the following:
An understanding of what pre-employment assessments are 
Tips on how to set the stage before researching providers
A list of questions to ask assessment providers
A printable checklist to help you select a provider
EBOOK
A Buyer's Guide to Pre-Employment Assessments
After reading this eBook, you'll walk away with the following:
An Understanding of What Pre-Employment Assessments Are
Pre-employment tests are powerful tools that employers can use to dramatically streamline the hiring process. We'll cover how widespread pre-employment testing is and the top reasons why companies use assessments.
Tips on How to Set the Stage Before Researching Providers
Before you start researching assessment providers, take some time to understand your goals, your current hiring process, and the roles for which you are hiring.
A List of Questions to Ask Assessment Providers
Once you have established your goals, your ideal process, and who you plan to test, you can start researching assessment providers and narrowing down those that most likely fit your needs. We gathered a list of key questions to ask providers in order to find the right match.
A Printable Checklist to Help You Select a Provider
With such a wide range of assessment types and vendors on the market, we created this checklist to help you select the assessment provider that best suits the needs of your organization.