Filling your hiring pipeline with qualified candidates remains a top concern for employers, regardless of size, industry, or location. This persistent issue for organizations has only been exacerbated by the Great Resignation. In fact, 76% of hiring professionals consider finding high quality candidates to be one of their biggest challenges. But it seems that the best way to win over candidates would be to understand exactly what they're looking for in their next employer. So we decided to find out.
This year, in addition to our Hiring Benchmark Report, we wanted to better understand the typical candidate's feelings about the job market in our 2022 Candidate Experience Report. As a part of conducting our candidate research survey, we asked respondents to rank their top priorities they take into account when looking for work. Then, when we surveyed hiring professionals, we asked them to rank the same priorities in the order they believed was most important to candidates.
The result? A pretty significant mismatch between what candidates actually want and what employers think they want. Hiring professionals believe that candidates top three priorities are compensation, followed by work-life balance, and then a positive work culture. But candidates rank work-life balance as their number one priority, with opportunities for career advancement and compensation taking second and third place.
Image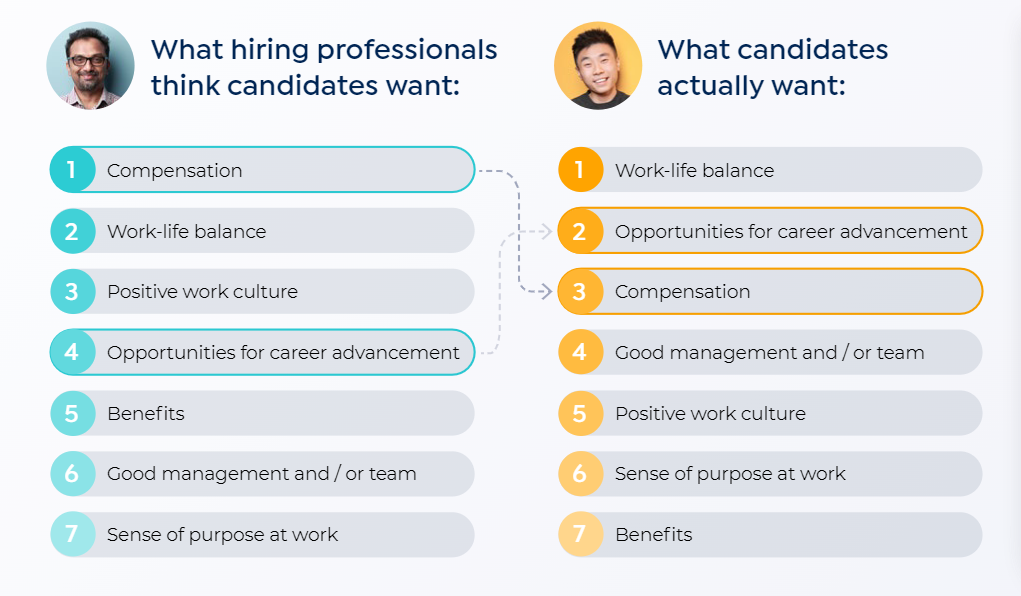 To further illustrate this divide, let's look at how compensation ranked. Sure, it made the top 3 on both employers' and candidates' lists. But that doesn't really show the full picture. 48% of hiring professionals ranked compensation as candidate's number one priority. Compare this to job seekers: just 17% of candidates ranked compensation as their top priority.
Ultimately, throwing more money at candidates isn't a silver-bullet hiring strategy. Job seekers have been enjoying the flexibility (or envying it, if it wasn't available to them at their last job) for more than two years now. This level of flexibility and work-life balance has become the expectation rather than the exception.
As for career advancement, candidates are especially keen on upskilling and mentorship. Internal hiring and talent mobility show employees (and candidates) that organizations are willing to invest in their workers for the long haul.
Interestingly, these top two priorities for candidates – work-life balance and career advancement – parallel with reduced turnover: remote work and talent mobility. Companies that offer remote work opportunities experience lower turnover, as do companies that have designated talent mobility programs.
Image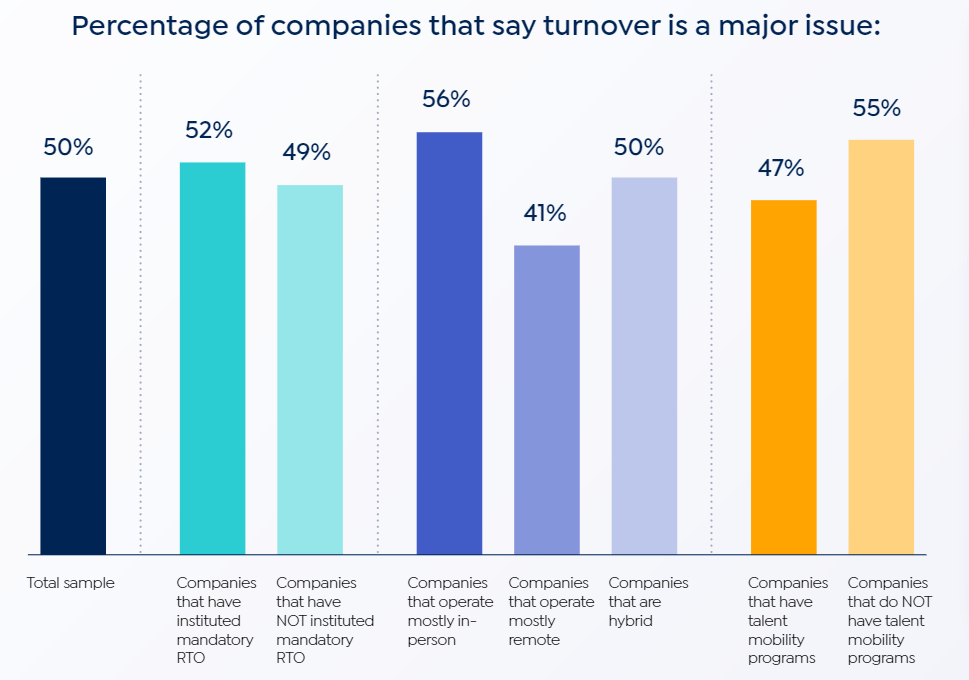 So it seems that if organizations focused on providing a flexible work environment and ample opportunities for internal growth, they could improve both their retention and hiring outcomes. In doing so, they're also likely to boost overall employee satisfaction, which can have an impressive impact on a business's bottom line.
Download your copy of the 2022 Hiring Benchmark Report to learn more about trends in recruitment, retention, and more!