Personality
Illustrait
Measures:
The competencies required for success in your organization's roles
Workplace behavioral traits and preferences
Recommended for:
All jobs. Choose the competencies required for success in your jobs from our comprehensive competency framework, or use Criteria's recommendations.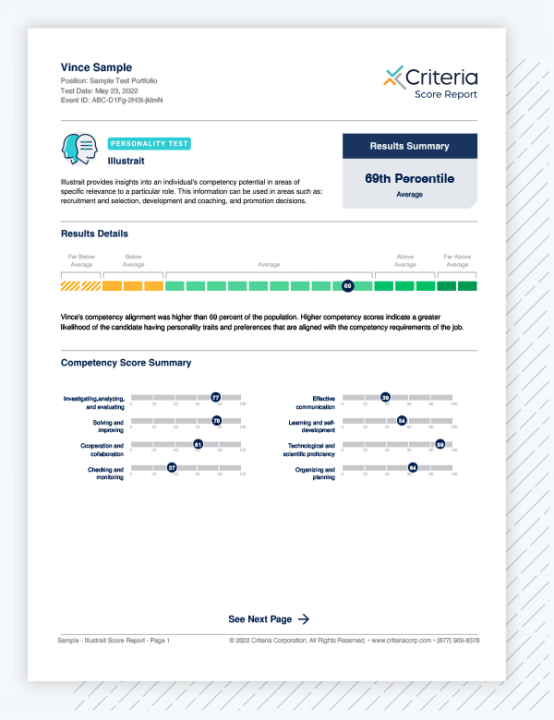 About lllustrait

TM
Quickly and accurately identify candidates with the competency potential to succeed in your organization. Illustrait is an intelligent, next-generation assessment that enables you to quickly and precisely identify candidates with the competency potential required to succeed in your unique roles. It gives you a hyper-targeted, highly job-relevant way to assess your candidates' workplace behaviors in a simple, brief candidate experience. It takes candidates around 10 minutes or less to complete.
A hyper-targeted, job-relevant assessment
Illustrait makes it easy for you to hone in on the competencies that predict successful performance on the job you're recruiting for. Rather than asking candidates to complete questions that assess their general personality and preferences, Illustrait allows you to select and assess only those behaviors that relate to a particular job. 
Competency recommendations for 900+ unique O*NET jobs
When you use Illustrait, we automatically identify the competencies required to perform in the job, using evidence-based recommendations from the US Department of Labor's O*NET database. Or, if you prefer, you can choose from our extensive library of competencies to reflect your unique needs, capability frameworks, and culture.
Up-to-the-minute, robust psychometrics
Illustrait is an intelligent assessment that adjusts the questions asked based on a candidate's previous responses (also known as an adaptive assessment or Computer Adaptive Testing). This means that it can confidently and accurately assess each competency with fewer questions than more traditional assessments. 
This assessment also employs advanced mechanisms that detect when candidates may be responding in an overly positive or inconsistent manner.
Provide an excellent candidate experience
Your candidates will appreciate a shorter, more streamlined and job-relevant experience. You can also choose to send them valuable feedback about their workplace styles and strengths, and how they can leverage them more effectively in their professional life.
Simple, practical, insightful reports
When candidates complete Illustrait, the score report provides a clear and concise overview of their overall competency potential, the types of behaviors they'll exhibit at work in the context of each competency, and a set of tailored interview questions. 
In addition, you can also choose to receive a Work Styles report that uses a universal behavioral framework to provide unique information about each candidate's work styles, how they approach work and others, motivators, and tips for successful onboarding.
All reports are written in easy-to-understand language that provides targeted, practical information for all stakeholders, from the talent acquisition team to individual hiring managers.