Cognitive Aptitude
UCognify
Measures:
Problem solving skills
Numerical reasoning
Recommended for:
Any mid- to high-level jobs that require problem solving and attention to detail.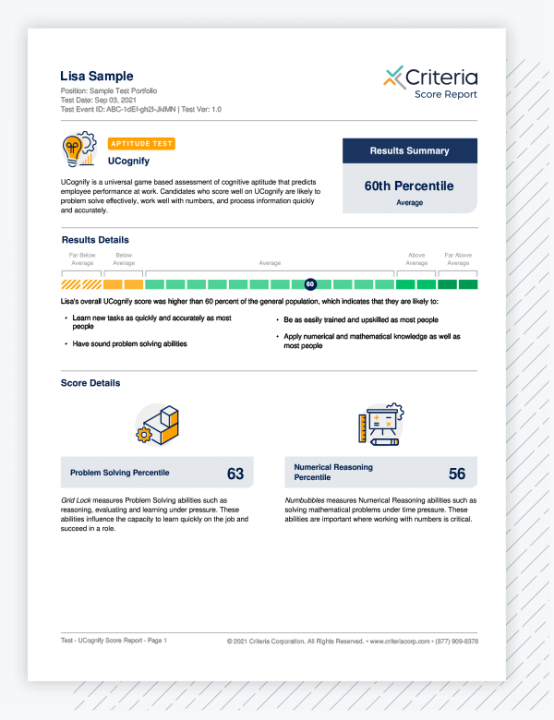 Test Description
UCognify is an award-winning game-based assessment that measures cognitive aptitude, one of the best predictors of job success. By combining innovative game design with proven cognitive assessment methods, UCognify emphasizes a world-class candidate experience that delivers rich insights about each applicant. The assessment features two highly engaging and interactive games that measure a candidate's ability to solve problems and work with numbers.
As a language-independent assessment, UCognify focuses on problem solving and numerical reasoning and does not assess verbal knowledge, making it ideal for international use. Candidates can take UCognify on any device, and the assessment takes approximately 7 minutes to complete, plus tutorials.
Score Reports
Each candidate is given a percentile ranking to demonstrate how the individual scored in relation to others who have taken the test. An overall percentile is provided, along with percentiles for the two categories of problem solving and numerical reasoning.
Engaging the Candidate
UCognify combines rigorous validation and assessment science with an emphasis on an engaging, brand-positive candidate experience. Game-based assessments, unlike traditional assessments, take more into account than just the correct answer, providing richer insight into a candidate's strengths and abilities. The fun and immersive games engage candidates and cultivate a positive image for your employer brand.
Award-Winning Game Design
An independent judging panel of I/O psychologists awarded Cognify a Workplace Excellence Award in 2018. And in 2016, Cognify won the Serious Games Showcase and Challenge.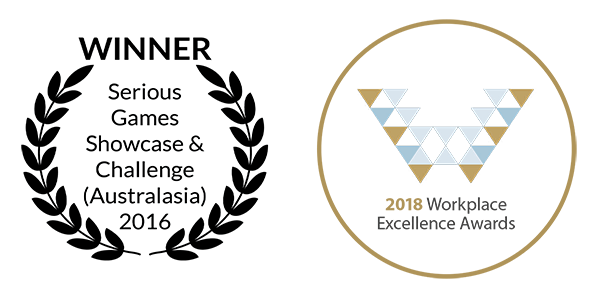 A five-game version is also available on request.