RESEARCH REPORT
2022 Candidate Experience Report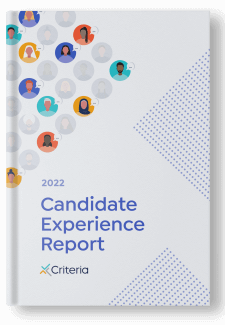 In this report, you'll discover:
Key statistics about candidate sentiment 
What candidates want in a positive candidate experience
How candidates feel about the hiring process today
And more!
RESEARCH REPORT
2022 Candidate Experience Report
About the Report
The talent landscape in 2022 is one of the most competitive in recent memory. With the Great Resignation in full force and inflation at record highs, organizations have experienced increased turnover and an even greater challenge of filling those empty seats.
At the heart of this story are the candidates. Job candidates are more than just job seekers. They are the people who become employees, who go on to hire others, and who make up the fabric of every organization. At one time or another, we are all job candidates.
This report dives into the thoughts, feelings, and desires of job candidates today. The results in the report are based on a survey of 1,967 job candidates from around the globe, representing a wide range of industries and backgrounds.
Every organization hiring today knows the importance of a positive candidate experience. The results from the report shed light on what candidates want, how they feel about the state of hiring today, and what leaders in HR, recruitment, and talent acquisition can do to win over top talent. The candidates were surveyed in April 2022.
Primary Findings
Flexibility is the #1 priority for job candidates. Candidates ranked work-life balance as more important than compensation, work culture, and benefits. 33% of candidates have turned down a job because it didn't offer flexible or remote options.
 
54% of candidates have abandoned a recruitment process because the salary didn't meet expectations. But that wasn't the only reason. 53% abandoned a recruitment process because of poor communication and 32% because the recruiting process took too long.
 
67% of candidates are "very confident" that their next job will be satisfying. And 79% of candidates are confident that they will be paid enough in their next role.
 
28% of candidates feel disadvantaged by the traditional hiring process. And 35% of candidates feel that their job experience holds them back.
 
94% of candidates say assessments demonstrate their potential well. And 74% agree that assessments help them demonstrate their potential beyond their past experience. Asian and Black candidates were more likely to feel this way than White candidates.
 
51% of candidates prefer game-based assessments. The Technology and Retail industries were the most likely to prefer them, and Asian and Black candidates were more likely to prefer them compared to White candidates.
 
52% of candidates feel that AI-based hiring can represent them accurately. But the higher their education, the less confident a candidate was about AI.
Who We Are
Criteria is a talent success company that helps organizations make more objective, evidence-based talent decisions that both reduce bias and drive outcomes. We are fascinated by all things hiring, and we built this report to dig deeper into what drives candidates today.