EBOOK
How to Hire Top Sales Talent with Assessments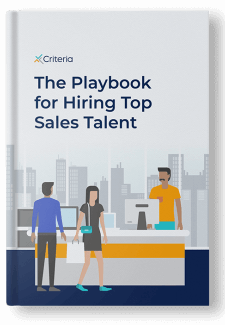 In this eBook, you'll learn the following:
What's on the line when hiring for sales roles
How to attract qualified sales candidates
Evaluating potential in your sales candidates
Case Study: Call Center Increases Revenue-Per-Day
EBOOK
How to Hire Top Sales Talent with Assessments
After reading this eBook, you'll walk away with the following:
What's at Stake When Hiring for Sales
When it comes to managing a sales team, it's no secret that a poor performer can impact your bottom line. So when you're ready to hire, it's important that you look for candidates with both the ability to do the job and the personality to be comfortable in a sales role.
How to Attract Qualified Sales Candidates
Recruiting quality sales talent can be a challenge. Discover how to identify the right traits to look out for amongst candidates and what strategies you can use to attract qualified sales talent.
How to Evaluate the Potential in Your Sales Candidates
Traditional hiring elements, such as resumes and interviews, don't always show the full picture of a candidate. We'll discuss what tools you can use to accurately assess and evaluate the potential of your sales talent.
Case Study: Call Center Increases Revenue-Per-Day
This eBook will also go over a real-life case study of how an employer used pre-employment testing to hire sales talent and then increased their revenue per day from its call center sales staff.