EBOOK
The Definitive Guide to Structured Interviewing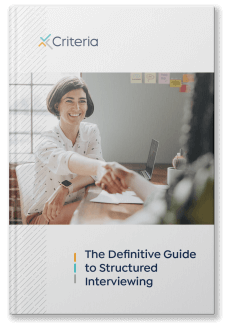 In this eBook, you'll learn the following:
The components of a structured interview

The biggest benefits of using structured interviews

How to plan and conduct structured interviews
EBOOK
The Definitive Guide to Structured Interviewing
Extensive research has shown that structured interviews offer two times more predictive power than unstructured interviews. Yet only a quarter of organizations today say they are using a truly structured process to interview candidates.

In this eBook, we outline actionable steps that you can use today to start planning and conducting structured interviews that will deliver better hiring outcomes for your organization. Plus: learn what defines a structured interview, and the reasons why structured interviews drive such successful results when compared to unstructured interviews.