In a hiring market dominated by a growing skills gap and the persistent challenge of finding qualified job candidates, many employers are increasingly turning to training programs to pick up some of the slack. After all, just because you couldn't find the perfect candidate for the role doesn't mean you can leave the position open indefinitely.
A robust training and onboarding program can get your relatively "green" employees up to speed, even for jobs that require a high level of skill. But the longer the training program, the more costly it is to train each employee, and the more costly it is to lose an employee who couldn't successfully pass through the training period.
That's where trainability comes in. Trainability refers to an individual's ability to learn quickly and pick up on training. Will this person be able to successfully complete the training program and go on to be a fully-contributing, or even high-performing, employee? That is what trainability seeks to answer.
Trainability is really an amalgamation of a bunch of other factors that predict someone's ability to learn quickly and pick up new skills successfully.  One of the key underlying components of trainability comes from cognitive aptitude. Cognitive aptitude, also called cognitive ability or general intelligence, refers to a person's ability to think critically, solve problems, and digest and apply new information. A lot of this has to do with general brainpower, but it also has as much to do with learning ability. Interestingly, repeated studies from Industrial-Organizational Psychology have demonstrated that cognitive aptitude is one of the most predictive factors of job performance, far more predictive than a person's job experience or the quality of their unstructured interview. Even more interestingly: cognitive aptitude is equally predictive of job performance across every job level, from entry level to C-suite.
That's good news in today's job market. Employers may be struggling to find candidates with the right set of acquired skills, but a candidate's past job experience isn't nearly as valuable as general cognitive aptitude when it comes to actually predicting their ultimate job performance.
Even better is the ease of measuring cognitive ability. A short assessment is more than enough to get a good read on someone's cognitive ability, and by extension, their trainability. Cognitive aptitude assessments are highly correlated with training outcomes, directly leading to higher training completion rates and reduced training costs overall.
Take one national consumer lending company that started to use assessments to hire loan officers. The newly hired loan officers were required to go through a rigorous 3 to 4 week training course, followed by a federally mandated licensing exam. Those who did not successfully pass the training were not retained. The costs associated with losing an employee were high, considering the time spent recruiting each employee plus the time spent in the training process.
After administering the CCAT, one of Criteria's cognitive aptitude tests, the company compared the employees' test scores with whether or not they passed through training. What they found was that those employees who achieved a certain score on the assessment (in this case, a raw score of 25), were extremely likely to be able to pass through training. In this sample, 100% of the employees who achieved that score on the CCAT ended up finishing the training.
Image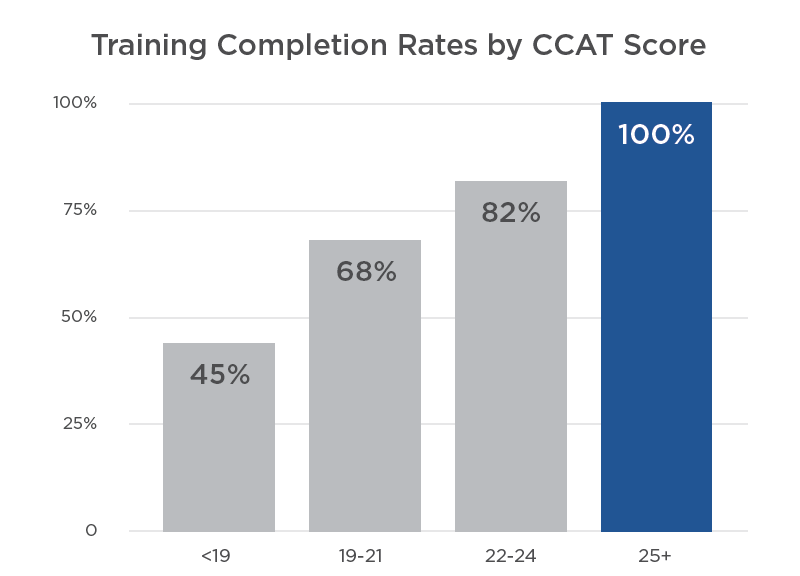 The training completion rates fell precipitously the lower the scores got, however. Of those who achieved less than a 19 on the test, just 45% passed through training.
This example demonstrates something important. Trainability isn't just a concept; it is an outcome that can be measured. What percentage of new employees are passing through the training? Are your employees able to learn new skills later on in their careers? Are they able to keep up with changing technology? Most organizations are already measuring these types of outcomes, but not as many are evaluating it ahead of time in the hiring process.
Getting a read on a candidate's trainability is especially critical if your organization is planning to invest a lot of time and resources into training each new group of employees. It's simply too costly to leave a candidate's trainability up to chance.