Turnover remains a top concern for many companies in 2022. But want to know the secret to keeping your best employees engaged and stay with your company for the long haul? The answer may lie in talent mobility programs. Hiring the right person isn't just about external recruiting; many times, the best person for the job is already on payroll.
Implementing a talent mobility program is a powerful triple-threat: it drives employee engagement, helps you maintain a highly-skilled workforce, and reduces turnover rates. Because it's such an incredible talent strategy, we wanted to know how popular it was among organizations.
In our 2022 Hiring Benchmark Report, we asked respondents whether or not their companies have programs in place to specifically encourage internal mobility. While just 28% had implemented defined talent mobility programs, another 28% reported that their organizations were actively working to create one.
Image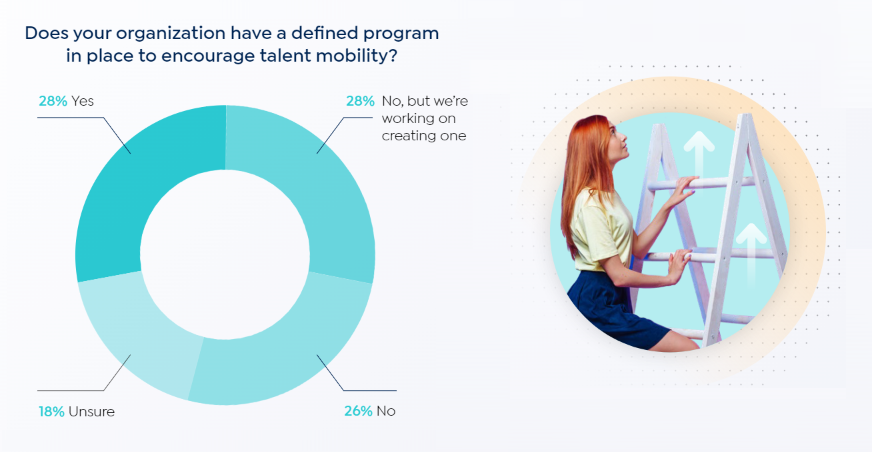 We wanted to dig deeper and understand if there was any relationship between having a talent mobility program and if it had any impact on how likely a company was to report having a major issue with turnover. We found that companies that had defined talent mobility plans in place are less likely to have a major problem with turnover, with just 47% reporting turnover as a major problem, compared to 55% at organizations without one.
Implementing an effective talent mobility program is a meaningful way to reward and motivate your workforce, creating tangible outcomes for hard work and dedication. When designing an internal mobility strategy, it's important to remember that you should use equally robust and predictive methods when evaluating both internal and external candidates.
With high turnover still at the forefront of hiring woes, a solid talent mobility program can help you tackle a couple different problems at once, from increasing the size of your applicant pool to improving retention rates.
To learn more about how to overcome some of the major challenges hiring professionals are facing today, download your copy of the 2022 Hiring Benchmark Report.