Candidate confidence is through the roof. This new-found confidence was ushered in by historically low unemployment, pervasive staffing issues, and a paradigm shift regarding work flexibility. The combination of heightened candidate expectations and talent shortage have allowed candidates to be choosier about the opportunities they consider, along with the role they ultimately accept.
But do all candidates feel this increase in their ability to find a job that satisfies them? We wanted to better understand just how pervasive this optimism was among today's job seekers. In the 2022 Candidate Experience Report, we asked nearly 2000 candidates how confident they were in finding job satisfaction.
When we conducted our survey in March of 2022, an astonishing two-thirds of candidates responded that they felt "very confident" in their ability to find a new job that satisfied them. In fact, none of the candidates surveyed reported that they were "not at all confident" in finding rewarding work.
Image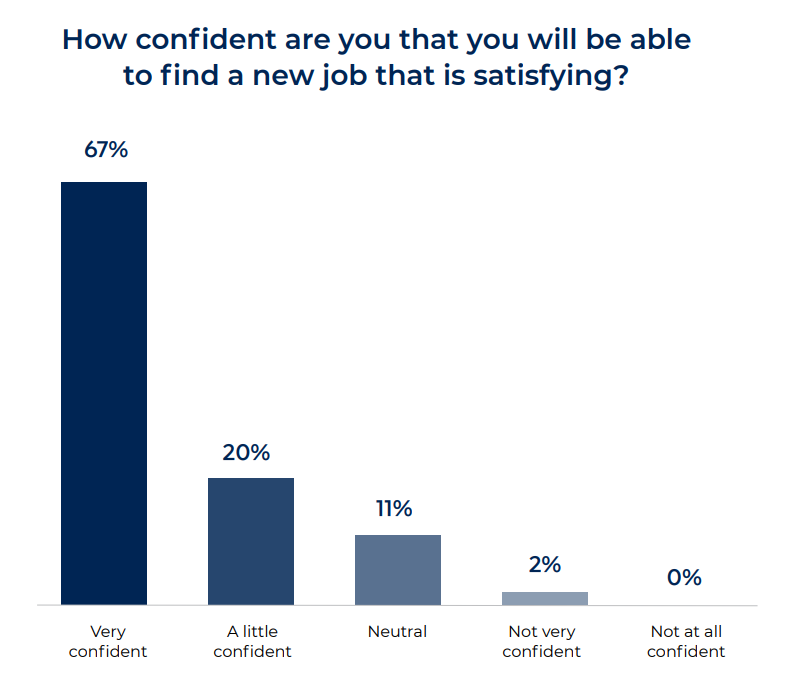 Interestingly, confidence varied across different demographics. For example, we found that candidates at a lower education level (high school diploma or less) were the most confident across education levels, with 72% feeling very confident in their ability to find a satisfying job. This makes sense; because employers have been desperate to fill headcount, they are more likely to waive certain (arguably less predictive) job requirements. It's a win-win – employers are able to widen their applicant pool, and candidates from non-traditional backgrounds are able to forge ahead down career paths that were previously closed off.
As far as differences in confidence between industries, candidates in the education sector were the least likely to report high confidence compared to other industries. Just 55% of job seekers in education reported very high confidence in finding satisfying work. As the pandemic drags on, educators are still stuck dealing with a high-stress work environment and limited opportunity for a big career change without going back to school. This has lead to reduced optimism and confidence in the education field for fulfilling job opportunities. As a result of these challenges, teacher turnover (where a teacher either leaves their institution or switches to a non-educational profession) has increased to 16% in the United States, up from 7.4% in the early 2000s.
One final point of note is the difference in confidence tied to ethnicity. Black (74%), Asian (69%), and Hispanic (69%) job seekers were more confident in their ability find job satisfaction than White candidates, of whom only 59% reported feeling very confident in finding a satisfying job.
At the end of the day, today's candidates have a lot of options. Job seekers know what they want and feel confident that they can get it. And they're willing to wait for the right opportunity to come their way, knowing the job satisfaction that will come with it. While these increased demands from candidates have created challenges for employers, it's important to keep in mind all the benefits of having employees with high job satisfaction.
Highly satisfied workers are more productive, less likely to leave for "greener pastures", and more passionate about their job. As an organization, its important to consider ways to keep your employees feeling engaged at work and ensure that you're delivering on them. Creating a positive and engaging culture is its own powerhouse recruitment technique. We've heard from job seekers firsthand what their top priorities are from work, with flexibility and career development topping the list. The next step is making sure you're meeting these needs.
Want to dive deeper into the mind of today's job seeker? Download your copy of Criteria's 2022 Candidate Experience Report today.