How have looming threat of economic downturn, high turnover, and record inflation rates impacted the outlook of the average business? We wanted to better understand the mindset of the average hiring professional, so we collected responses from more than 500 individuals from across industries to check their level of optimism surrounding their prospects for the coming year.
As a part of our 2022 Hiring Benchmark Report, we asked our respondents about the outlook they have for their company in 2023. The results took us by surprise – an impressive 78% of respondents are expecting positive growth in the coming year. 15% of hiring managers anticipate that things will stay the same, and just 2% foresee decline in 2023. A scant 5% of people feel that the macroeconomic situation is too unstable to effectively predict what the next year will look like.
Image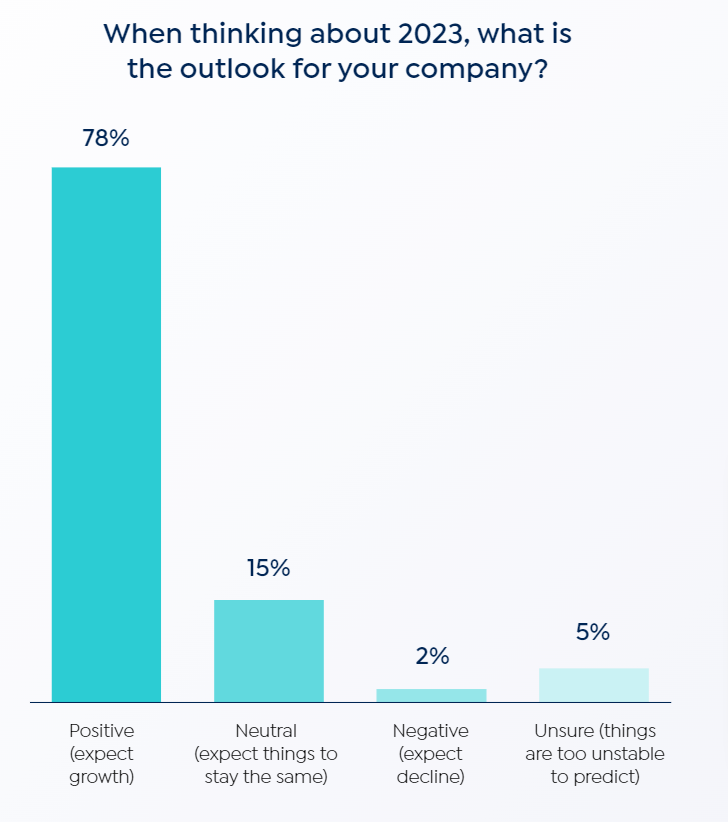 But the data proves it: people feel overwhelming positive about what 2023 will hold for their business. It makes us wonder: is this blind optimism flying in the face of the impending recession? It's possible many remaining businesses may be holding on to some survivorship bias after enduring the wild economic rollercoaster that the pandemic sparked. On the other hand, this confidence may stem from hiring professionals feeling that their companies are well-suited to weather any storm that the world may throw their way.
Interestingly, this optimism is shared by respondents regardless of the industry they are in, though to varying degrees. Staffing & Recruiting had the highest reported optimism at 91% anticipating growth in 2023, while those in the Government & Public Sector are more reserved, with just 52% expecting growth next year.
Image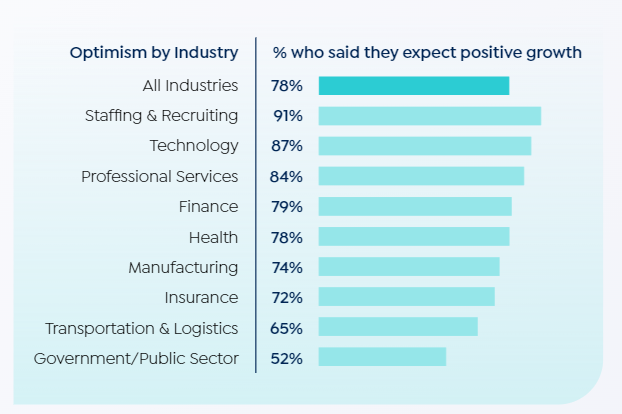 We'll just have to wait and see if this optimism for 2023 is well-placed or ill-founded. But if you're looking for deeper insight into what to expect for next year's hiring trends, grab your copy of the 2022 Hiring Benchmark Report today!