EBOOK
How to Reduce Risk with Pre-Employment Assessments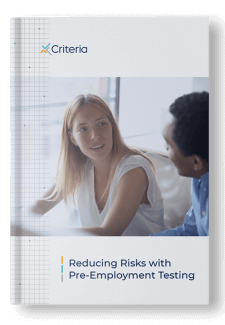 In this eBook, you'll learn the following:
The risks associated with hiring
How pre-employment assessments minimize hiring risk
The types of hiring risks that pre-employment tests address
And more!
EBOOK
How to Reduce Risk with Pre-Employment Assessments
After reading this eBook, you'll walk away with the following:
The Risks of Hiring
Hiring is a fundamentally risky endeavor. We'll cover how traditional hiring metrics do little to minimize the unknowable risks associated with each hire and what's exactly at stake when you make a bad hire.
How Pre-Employment Testing Minimizes Risk
Scientifically validated pre-employment tests serve as a powerful tool for reducing risk because they are built on decades of research into the traits and abilities that lead to job success.
The Different Types of Hiring Risks That Testing Addresses
From the risk of rule-breaking behaviors to the risk of turnover or careless mistakes, we'll discuss how pre-employment testing addresses several different types of hiring risk.