EBOOK
15 Skills of the Future and How to Assess Them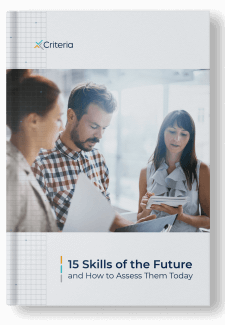 In this eBook, you'll learn the following:
15 skills of the future

How to identify talent with these skills

Structured interview questions you can use to assess for these top skills
EBOOK
15 Skills of the Future and How to Assess Them
If the last few years have taught us anything, it's that the world – and the world of work – can change rapidly and dramatically. The increase in job vacancies and growing skills gaps are making the talent landscape more competitive than ever, resulting in a global talent shortage. But the skills and competencies of yesterday are no longer as relevant to today's work environment, let alone the future.
In our latest eBook, we outline the World Economic Forums' top 15 skills for employees to 2025, and how they can be objectively assessed using valid, science-based psychometric assessment, complemented by video interviewing. You'll walk away with the knowledge of how to apply a skills-first hiring approach, setting your organisation and its employees up for future success. 
It includes testing recommendations for:
Problem Solving skills
How to assess for analytical thinking, innovation, creativity, initiative and more.
Self-Management skills
How to assess for active learning and identify commitment to ongoing learning.
Working with People
How to assess for persuasion and negotiation skills, resilience, leadership, social influence and more.
Technology Use and Development
How testing soft skills can complement hard or technical skills assessment for a more well-rounded view of the candidate.